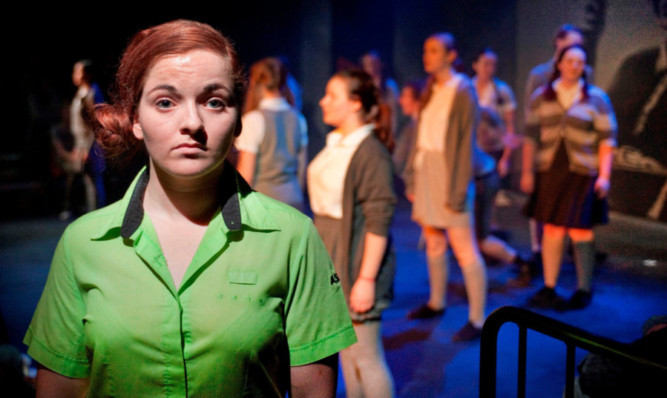 A PERTHSHIRE actress is encouraging youngsters to follow her path into a theatrical career.
Scottish Youth Theatre is seeking budding actors and technicians aged 8-25 to take part in this year's summer festival, an event which proved a springboard for the careers of Gerard Butler (Law Abiding Citizen, 300), Karen Gillan (Dr Who), Andrew Still (Hollyoaks) and Kirstie Steele (Waterloo Road).
Now, Flora MacKeddie, from Crieff, is appealing to local talent to put their names forward for this flagship event, which brings together young drama enthusiasts from across the country to take part in courses ranging in length from one to six weeks. They include performing arts and technical production and are held in Aberdeen, Glasgow and Edinburgh.
Flora explained her past involvement, saying: "I was a member of Perth Youth Theatre when I first heard about Scottish Youth Theatre's Summer Festival, as other members had previously taken part and told me all about it."
She has since became a regular face at Scottish Youth Theatre performances, including starring in last year's Easter show.
The 18-year-old, who is studying theatre, film and television at Glasgow University, continued: "For those with an interest in drama and performance, Summer Festival is perfect for those wanting to gain experience within a professional environment, rehearsing and performing shows for public performance at the end of the course.
"It's ideal for those looking to do something during the summer break."
The six-week Performance and Production Learning Programme offers young people the opportunity to gain a qualification upon completion of the course, which is SQA credit rated, sitting between the Higher/Advanced Higher level on the SCQF at level 7, with 29 credit points.
"Scottish Youth Theatre's Summer Festival has something to offer everyone," says Mary McCluskey, the group's artistic director.
"Every summer, hundreds of young people who are passionate about theatre and performance take part. It gives young people a fantastic insight in to the thriving world of theatre and the opportunity to make friends with other young people their age with the same interests."
For more information, visit scottishyouththeatre.org or call on 0141 552 3988.
rburdge@thecourier.co.uk