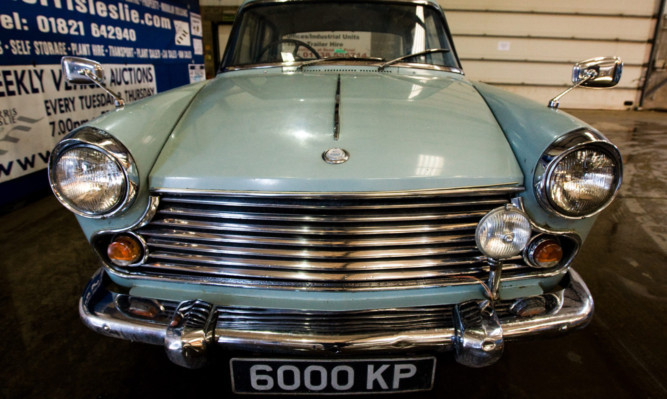 A piece of motoring history which belonged to one of the most famous British figures of the 20th century is to be sold at auction in Perthshire next month.
Museums and collectors will battle it out to be the new owner of the pale green 1964 Morris Oxford saloon which was the last private car owned by Sir Winston Churchill.
Although no pre-sale estimate is being placed on the vehicle by Errol's Morris Leslie Vehicle Auctions, a Land Rover owned by the former prime minister sold for £129,000 at an auction in England last year, more than twice the original estimate.
"The Morris Oxford saloon is the last car Churchill bought before he died in 1965," said Gregor Leslie (27), managing director of the vehicle auctions.
"The clientele who would be interested in the car are Churchill collectors and museums who are interested in preserving a bit of iconic motoring history."
The car, which is in full working order, has only 7,066 miles on the clock and has been put up for sale from a west coast vehicle collection.
Churchill, who was MP for Dundee from 1908 to 1922, spent his final years at his home Chartwell in Kent. The Morris Oxford with the number plate 6000 KP was registered in Churchill's name on May 12 1964.
There have only been a handful of owners since his death. They are detailed in the log book which is signed by the great wartime leader.
If the price does soar, those who lose out can console themselves with an accurate model of the car which has just been launched by Corgi.
The real car will come under the hammer at Morris Leslie Vehicle Auctions, Errol Airfield, on Saturday March 9.
It is their second vintage vehicle and machinery sale, and the first one saw more than 200 entries of vintage cars, tractors, machinery, lorries and motorbikes.
Among the other lots of interest confirmed for the auction is a 1978 Aston Martin Oscar India which is an early model off the production line.
The auction starts at 10am with gates opening at 8am. Admission is £5 and under-16s are free. Online bidding is available.