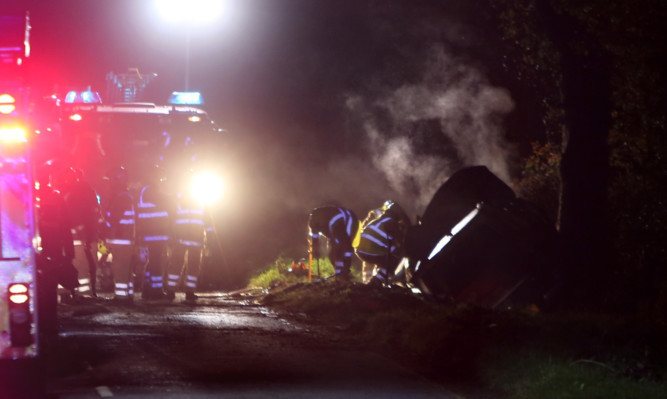 The bravery of two workmen who rescued a woman and child from their burning car on Monday night probably saved their lives, according to the emergency services who attended the Perthshire accident.
Perth Station Commander Bob Rearie of Scottish Fire and Rescue Service was in no doubt that the men's swift actions had prevented the head-on collision becoming a tragedy.
"The occupants of the car were extremely lucky, if it wasn't for thebravery of the passersby it would have been a different story," he said.
The firefighters arrived at the scene of the accident on the A93, a mile on the Blairgowrie side of Guildtown, to find the car and pickup ablaze.
The mother and child had been pulled from their car by the workmen and the driver of the pickup had managed to free himself.
"They were two guys in a works van who came upon the scene," said Mr Rearie of the rescuers.
"I'm sorry I didn't get a chance to thank them. You look at the scene and wonder how anyone survived."Do you know the identity of the hero workmen? Please contact The Courier on 01382 575894 or emailnews@thecourier.co.ukThe vehicles ended up in a ditch at the side of the road against a tree.
One unit from the fire service from Blairgowrie attended along with three from Perth and they extinguished the blaze as well as helping the otheremergency services at the scene.
Among those attending at theaccident was the Tayside Trauma Team from Ninewells Hospital.
The female victim, in her thirties, was described by the ambulance service as being "in a serious condition" while the man, also in his thirties, was understood not to have been as badly hurt.
The child was confirmed to be unhurt by the ambulance service and was not taken to hospital following the accident which happened at about 5.30pm.
The ambulance service explained their involvement saying: "We received an emergency call to reports of a two-vehicle head-on collision.
"Two adults a male and a female, both in their thirties were taken to Ninewells Hospital in Dundee.
"The woman suffered serious trauma injuries, leg injuries and injuries to the head.
"There was also a young child involved in the accident who was not injured and did not require to go to hospital."
A spokeswoman for the Scottish Fire and Rescue Service said: "Both vehicles were well alight and the occupants were released prior to our arrival.
"Crews used two jets, two hosereels, and two sets of breathing apparatus."
The fire was extinguished shortly after 6.30pm.
The road was closed overnight between Guildtown and Cargill to allow the accident to be fully investigated and the wreckage to be removed from the scene.
Diversions were put in place.