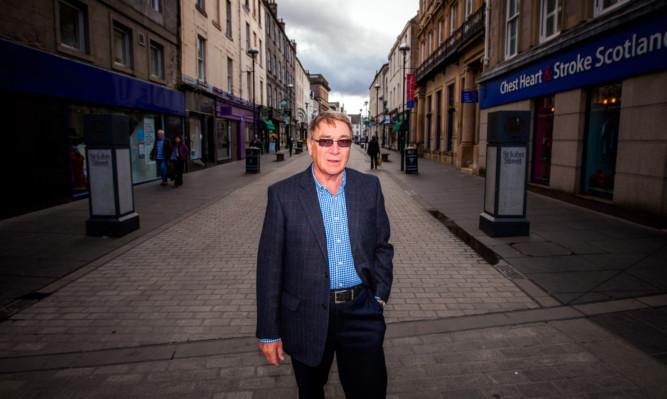 Geoff Brown, the Perth businessman and St Johnstone FC owner, has shown a "red card" to Perth and Kinross Council.
The GS Brown Construction managing director's stinging criticism last week of the local authority over a lack of leadership and vision prompted a hostile reaction from council headquarters.
A spokesman for the council stressed it was fully committed to regenerating the Fair City as part of the Perth City Development Board and dismissed Mr Brown's critical assessment of the plight of a city centre reeling from the closure of McEwens department store.
It was "unfortunate that prominent individuals choose to talk the city down", the spokesman added.
Yesterday Mr Brown hit back, stating the council's response "completely missed the point".
He said: "To use a football metaphor, they have played the man, not the ball.
"I did not in any sense 'talk the city down' the target for my criticism was the council itself, and, specifically, their failure to focus on the huge potential for bringing back into use empty residential properties."
Mr Brown is calling for a public and private sector alliance to bring neglected city centre flats back into use.
"This would not only help to satisfy a crying need for affordable housing but create more jobs for local people than grandiose schemes like the £40 million road to nowhere and the Perth Theatre extension," he said.
"In those cases, most of the work for those projects will go to contractors' labour brought in from beyond Perth and Kinross.
"And I am completely bewildered by the fact that they linked my comments to issues like pedestrianisation and parking, neither of which I mentioned."
The council statement also accused Mr Brown of "factual inaccuracies" over his claims Perth was falling behind Dundee, but he remains defiant on this.
"I think their statistics boasting that Perth and Kinross wage levels are 'significantly higher' than Dundee are wrong," he added.
"Scottish Parliament figures issued on December 10 show that the median hourly pay excluding overtime was £12.29 per hour in Dundee and £11.34 in Perth and Kinross."