 A Scottish Government initiative that has saved small firms more than £1 billion in rates charges will be continued for the next five years if the SNP is returned to power at Holyrood, the First Minister pledged.
Nicola Sturgeon said her administration would "continue to champion small businesses" during the current "challenging time" for many firms.
She also pledged a review of business rates, which is to be chaired by former RBS Scotland chair Ken Barclay, would be "revenue neutral" and would not be "an exercise in increasing tax".
Instead, she said this work, which is to be completed by the summer of 2017, is "about ensuring tax is fair and balanced".
The First Minister also promised there would be an announcement in the "not too distant future" about efforts to ensure high-speed rail comes to Scotland.
Ms Sturgeon, who was speaking at the Federation of Small Businesses' annual conference in Glasgow, said the review of business rates would consider how the charge could better support growth and respond to wider conditions in the economy and changing circumstances.
She added: "The small business bonus will be continued if this government is re-elected for the duration of the next parliament, that means it will stay in place at least until 2021."
The SNP administration at Holyrood set up the scheme, which cuts rates bills for smaller businesses with the smallest firms paying nothing, in 2008.
Ms Sturgeon told the conference: "As a result of the small business bonus scheme, almost 100,000 small business premises in Scotland now pay no business rates or reduced business rates.
"In the current financial year that has reduced taxation for small businesses by £170 million, an average of more than £1,500 per property.
"In total, since the scheme was introduced the small business bonus has saved businesses more than £1 billion."
Despite that, there are still "some aspects of the business rate system" which firms are concerned about, she said.
"There is a case for making changes and we recognise that case," Ms Sturgeon said.
"We announced last December we will conduct a review of business rates to ensure the system is as fair and as effective as possible.
"I can confirm today that Ken Barclay, the former chair of RBS Scotland, has agreed to chair the review commission for us."
Another guiding principle for this is the Scottish Government ambition that "Scotland should strive to be the best place anywhere in the UK for businesses to start up, to do business and to succeed".
Mr Barclay said he is "delighted" to have been asked to chair the review, stating: "This will be a detailed examination of the Scottish business rates system and I look forward to listening to the businesses who pay rates to hear their views.
"My aim is to identify a series of recommendations that seek to enhance and reform the system to better-support business growth and reflect the economic importance of rates and changing marketplaces."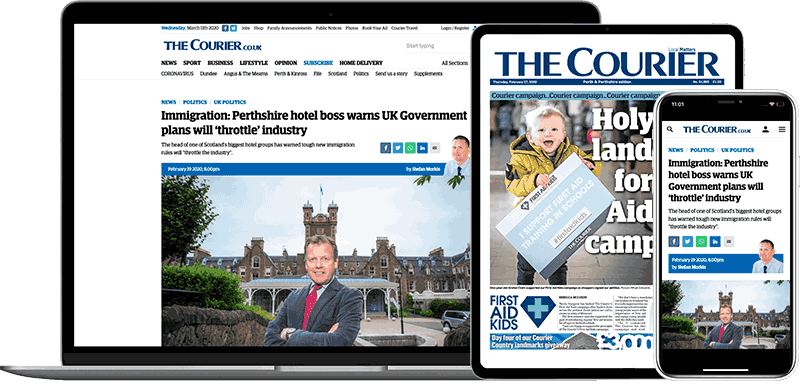 Help support quality local journalism … become a digital subscriber to The Courier
For as little as £5.99 a month you can access all of our content, including Premium articles.
Subscribe