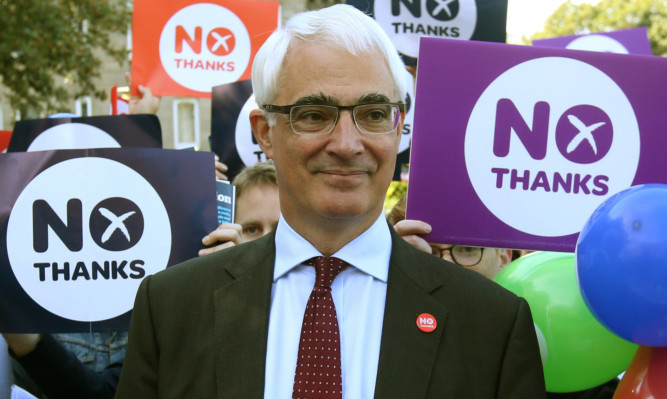 Labour's demise in Scotland was in part a result of its involvement in the cross-party Better Together campaign, Jeremy Corbyn has said.
The party's new UK leader also cited Labour's failure to offer an alternative to austerity economics as another reason why support has slumped.
Mr Corbyn, who will visit Scotland on Thursday, has replaced Ed Miliband, who stood down in the wake of the Conservatives' majority victory in May's general election.
In Scotland, which had been a Labour heartland, the party was all but wiped out by the SNP, losing 40 of the 41 seats it had won in 2010.
When asked what went wrong for Labour in Scotland, Mr Corbyn told BBC Radio Scotland: "I think what went wrong was the Better Together campaign."
Labour had worked with the Tories in the successful pro-UK campaign, alienating some of its supporters north of the border.
Mr Corbyn also said "what went wrong was UK-wide failure to oppose the principles behind austerity in the last two general elections".
With Holyrood elections taking place in May next year, he has held talks with Scottish Labour leader Kezia Dugdale during the party's annual conference in Brighton.
"Kezia and I are working fine together," Mr Corbyn told the Good Morning Scotland programme.
He said Labour is working to "develop our campaign up to the election next year" but is also listening to the views of Scottish members "because the mood in the Labour Party is one of openness, it's one of democracy, participation, as well as strengthening things".
He insisted politics in Scotland is not about nationalism versus unionism but "the opportunities for young people to go to school, to go to college, to go to university, the issue of who owns and runs public services, the issue of health inequality, the issues of poverty".
While he said the SNP "might say they are addressing these issues", he added there was "the issue of the loss of college places" as well as "huge health inequality issues, all of which have to be addressed".
He insisted Labour in Scotland was not a "branch office", as former Scottish leader Johann Lamont had claimed.
Mr Corbyn added he would have discussions during the party's Scottish conference in Perth about whether the whip for Scots at Westminster should be controlled by him or Ms Dugdale.
He said: "The Labour Party in Scotland is a very strong organisation. It obviously lays out the manifesto for the Holyrood election, it obviously lays out what they expect of Scottish members in the Holyrood parliament."
He said his party would vote the same way as SNP MPs at Westminster on issues such as welfare reform, changes to trade union laws and Tory plans for English votes for English legislation.
While some Labour MPs had abstained in an earlier vote on welfare reforms, Mr Corbyn said: "I think you will find our opposition to the Welfare Reform Bill is going to be very strong from here on in.
"I believe passionately that the Welfare Reform Bill is wrong because of what it does to the life chances and opportunities of the poorest, the way it takes money away from the poorest, just in the same way as the cut in family tax credits does the same, takes £1,200 away from the poorest people in this country."
Scottish Conservative leader Ruth Davidson said: "It is odd to see Mr Corbyn declare that it was the referendum campaign which led to Scottish Labour's loss – after all, he didn't come up during the campaign because, in his own words, he was 'doing stuff' in London. So how would he know?"
She added: "Many thousands of Labour supporters stood alongside people from other political backgrounds to fight for our United Kingdom last year. It's a shame that Mr Corbyn's Labour Party now seems to be running away from their work, rather than thanking them for keeping the country together.
"When he is in Scotland tomorrow, I am asking him as a Unionist to stand up for the decision made by Scots last year and make it clear that he will do nothing to damage the UK.
"Crucially, Jeremy Corbyn must make clear if he backs Kezia Dugdale's position that Labour MPs and MSPs would be free to campaign for independence in future, or if he will ensure that Labour will fight for a No vote if there's ever another referendum.
"Just a year ago two million Scots voted No to independence – many of them Labour supporters – and they will be appalled that Labour's leader in Scotland seems no longer to value their views or votes.
"It's now up to Mr Corbyn to say whether the Labour Party can be relied on to support Scotland's place in the United Kingdom in any future vote, or if he backs Kezia Dugdale's flip-flopping on this vital question."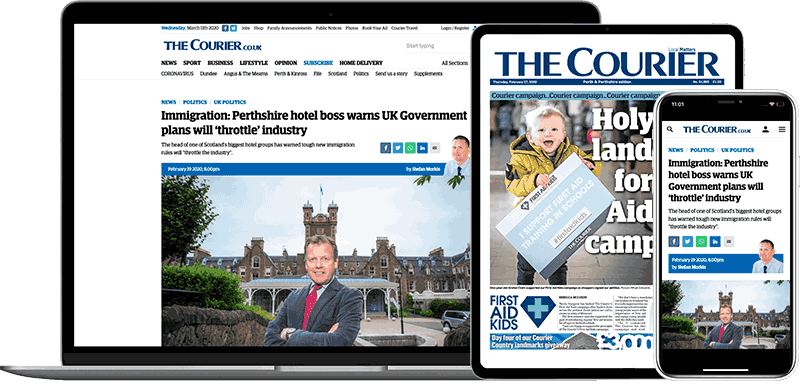 Help support quality local journalism … become a digital subscriber to The Courier
For as little as £5.99 a month you can access all of our content, including Premium articles.
Subscribe