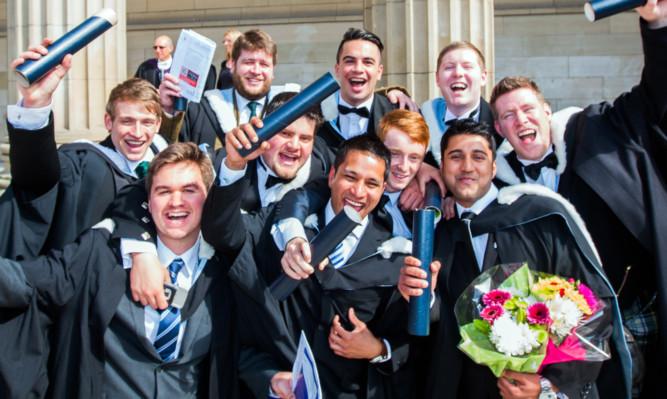 Students from poorer backgrounds in Tayside and Fife have seen their grants slashed by two-thirds in three years.
Hard-up teens from the area were given grants averaging £1,700 each in 2012/13 but that has plummeted to just £600 so far this year.
That 65% fall in cash support coincides with the average bursary award dropping by more than a third (35%), according to Scottish Government figures obtained by The Courier.
Scottish Labour's Iain Gray said the figures shine a light on SNP's "absolutely shameful" record on student support.
"The SNP promised students they would end loans and pay off debt," he said.
"Instead they have slashed the budget for bursaries and grants by £40 million and student debt has soared. The student debt book is now the SNP Government's biggest single financial asset worth more than the new Forth bridge."
Liz Smith, the Scottish Conservatives' spokeswoman for young people, said the SNPs "warm words" on helping the poorest make it to further and higher education are hollow.
"Its misguided policy on universal free tuition is hurting universities, and limiting the chances of Scottish young people from deprived backgrounds," she added.
"And its destruction of college places compounds that situation even further."
The Scottish Government put forward a new student support package in 2013, a hybrid system which mixes grants and loans.
In 2014, Alex Salmond carved into stone his commitment that students would not have to pay tuition fees, which remains the central tenet of the SNP's university education policy.
Figures from the Student Awards Agency Scotland (SAAS) published in October showed the average value of grants and bursaries had fallen by nearly 30% in the decade to 2014/15.
New data for Tayside and Fife from SAAS shows grant support has plummeted signficantly in less than a year.
Some 4,805 students in Courier Country received an average grant of £1,000 in 2014/15, compared with so far this year when 4,305 students have received an average of just £600 a 40% fall.
While there was £9.7m worth of grant and bursary support for students in the area in 2012/13, only £3.6m has been delivered in the financial year so far to December 2015. The figures come days after a £4 million cut was proposed for universities in Tayside and Fife.
A Scottish Government spokeswoman said Scotland's poorest students living at home can access the best package of support in the UK, while the grant element has been bolstered this year and the household income threshold for the maximum bursary is being increased.
"This is all in contrast to the UK Government, who are abolishing grants entirely for new students in England from 2016/17," she said.
"Action taken to legislate on access, fund additional places and work with universities to do more to widen access have delivered progress. Young people from the most deprived areas are now more likely to participate in higher education by the age of 30 than they were in 2007/8.
"But we recognise the need to do more. The Commission on Widening Access is looking at what more can be done to remove the barriers for young people from deprived communities."