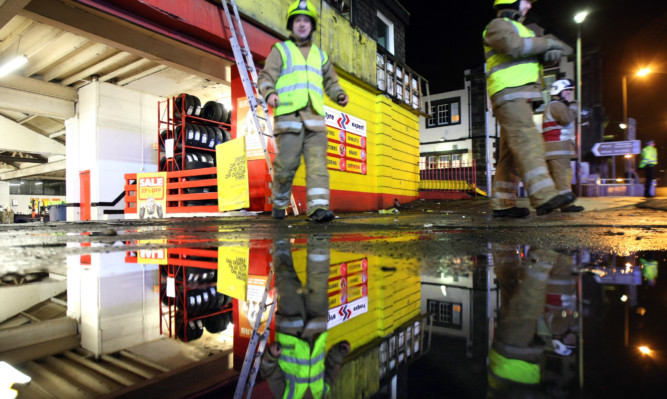 Courier country is warned to prepare for flooding with heavy rain and strong winds from Storm Desmond battering the country this weekend.
The Met Office has an amber "be prepared" warning for rain in place for Saturday and the early part of Sunday across Tayside and Fife, Strathclyde, Central, Lothian and Borders and south west of Scotland areas.
Parts of the north west and north east of England are also covered by the alert, which cautioned that up to 200mm of rain could fall on high ground.
Motorists have been urged to be aware of difficult driving conditions, with those in Scotland told they could be "extremely challenging".
The Met Office said: "Be prepared for the likelihood of flooding affecting properties and parts of communities. Watercourses may become dangerous, deep and fast-flowing, while some transport disruption seems likely."
Its chief forecaster warned that the spell of heavy rain and strong winds would be "prolonged".
Forecasters said rainfall of 60mm to 100mm is likely quite widely in the amber zones, with some mountainous areas seeing in excess of 150mm over a 30-hour period, perhaps even reaching 200mm.
It comes after yellow "be aware" warnings for wind and rain were in place on Friday across much of Scotland, Northern Ireland, the north of England and northern Wales.
By late Friday, the Scottish Environment Protection Agency (Sepa) had 15 flood alerts in place around the country and multiple flood warnings in Tayside, the Borders and Easter Ross and the Great Glen.
South of the border, the Environment Agency has flood warnings and alerts in place in the Midlands, Wales and the north east and north west of England.
Marc Becker, hydrology duty manager for Sepa, said on Friday: "Flooding is expected to affect many central and southern parts of Scotland which could affect communities and cause travel disruption across many areas of Scotland over the coming days.
"River levels in the Tay, Clyde and Tweed catchments are already high and are expected to rise considerably in the next 24 hours.
"Over the coming days we will continue to monitor levels and update the public on our latest forecasts via social media and Floodline. We would encourage members of the public to remain vigilant and be mindful of the conditions in their locality and when travelling."
RAC spokesman Simon Williams said anyone driving in Scotland on Sunday may be faced with "extremely challenging conditions" with possible flooding, wind damage debris and more high winds.
He said: "Motorists encountering flood water on the road should think twice before trying to drive through. Water getting sucked into engines can cause catastrophic damage which could lead to a frightening repair bill at the most expensive time of year or even an insurance write-off.
"If you are at all unsure how deep a flood is the best advice is to err on the side of caution and take another route."
Police have also urged caution. A spokesman said: "In anticipating that there may be areas of flooding, Police Scotland would also advise that you are mindful of the road conditions and drive accordingly.
"Allow plenty of time for your journey and ensure that you keep up-to-date with local travel news."
Scottish Environment Minister Aileen McLeod said the Scottish Government and Transport Scotland are closely monitoring the situation, supporting the efforts of local authorities and the emergency services.
For updates visit floodline.sepa.org.uk/floodupdates/