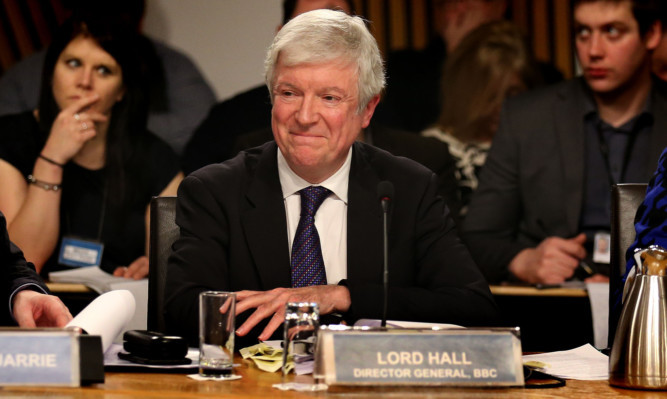 BBC Scotland should be handed greater control over budgets and decision-making for Scottish content, alongside a "powerful voice" in determining what the broadcaster does as a whole, the corporation's director-general has said.
Lord Hall said it was time to "look very carefully at how we serve Scottish licence fee payers and also how we portray Scotland".
He said this would include consideration of a "Scottish six" news programme as part of a wider review of the BBC's news services.
The director-general was appearing before Holyrood's Culture Committee as it takes evidence on the BBC's charter renewal.
He said: "We can do so much better in telling the stories of Scotland to Scottish audiences, but also from that to the whole of the UK and to the world.
"So, at the moment I am reviewing the way we commission across network television.
"One of the aims of this is to ensure we are representing and portraying all parts of the UK, but particularly Scotland, but also looking at how we can help sustain production in the nations.
"Now is the right time to say are we getting it right and do we need to change the balance? My own view is that this is the time now to make a change."
Lord Hall said a review of news services would report in the spring.
"This is looking at the provision of news across television, radio and also online," he told MSPs.
"Of course, in that there will be a debate about what has become known as the Scottish six o'clock news."
Lord Hall, who appeared at the committee alongside BBC Scotland director Ken MacQuarrie, was also asked about what had happened to a plan from bosses in Scotland which set out options for a new Scottish television channel, a second radio station, greater online content and full devolution of commissioning powers and budgets.
Mr MacQuarrie insisted these ideas were among "a number of options" which were discussed while Lord Hall said proposals had been shaped by funding.
"This goes back to resources and how best can we use the resources that we have got," the director-general said.
"In that sense we put a priority on getting our news right, and also our commissioning and production base right."
He told MSPs that Scotland will also get its own front page on the iPlayer, and on the news and sport websites.
He added: "I want to devolve more decision-making on how we provide services in Scotland to the BBC team in Scotland.
"It strikes me in the technical language we use about these things there should be a 'service licence agreement' for the whole of what is done in Scotland.
"That should rest in Scotland and moving between those services or looking at the quality of those services or redacting those services should be a matter for Scotland."
Pressed on greater autonomy for BBC Scotland, he went on: "I want the director for Scotland to have more power to decide the services that the people of Scotland want for Scotland, I also want the director for Scotland to have a powerful voice in determining what the BBC does as a whole."
The Scottish Government wants a new federalised BBC which would allow BBC Scotland to control budgets and decision-making.
It has also called for the creation of a new Scottish television channel and radio station.
Scotland's Culture Secretary Fiona Hyslop also appeared before the committee.
Commenting on additional channels, she said: "It's disappointing that that did not see the light of day in terms of the proposition put forward by the BBC when they went into the charter renewal process."
She added: "He (Lord Hall) was talking about providing more online platforms.
"I think the very least we can provide is more online platforms for Scotland, but it is not just about how you access and how you want to watch it, it is about what you want to watch, it is content as well.
"It is not just about the number of channels, it is about the quality and the content too, and I think … other countries seem to get better value in terms of the number of stations and channels than we do in Scotland."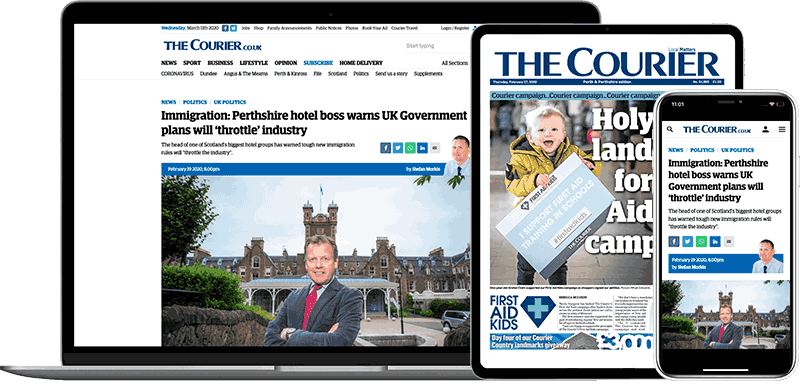 Help support quality local journalism … become a digital subscriber to The Courier
For as little as £5.99 a month you can access all of our content, including Premium articles.
Subscribe