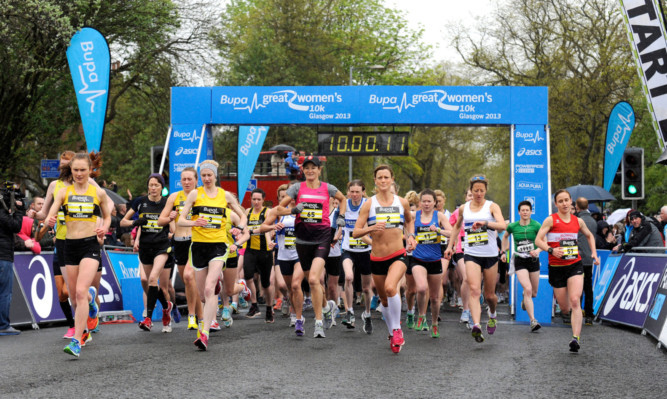 More than 7,000 women sprinted on the streets of Glasgow in the largest female running event in the UK.
Olympic judo silver medallist Gemma Gibbons kicked off the Bupa Great Women's 10k, which saw runners endure a bit of rain but plenty of crowd support as they completed the course on the city's southside.
Participants included Jo Pavey, the fastest female 10,000 metre runner in Europe, and athlete Sonia O'Sullivan who took silver in the 5,000 metres at the Sydney Games.
First over the finish line was Elspeth Curran, from Kilbarchan, Renfrewshire, who completed the race in 34 minutes and 59 seconds.
The first wheelchair athlete to cross the line was Meggan Dawson-Farrell, from Alloa, Clackmannanshire, in 37 minutes, 21 seconds.
Gibbons, from London, who won Britain's first judo Olympic medal in 12 years at last year's games, said: "I'd heard the atmosphere in Glasgow was fantastic and I wasn't disappointed.
"It was great to see so many women take part on the day, supporting each other for so many different causes."