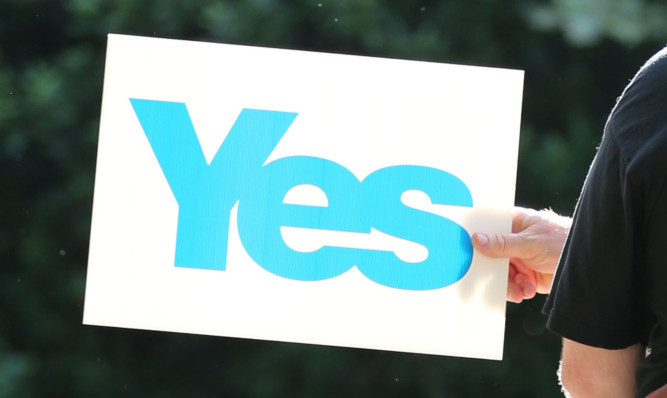 Yes Scotland's chief executive has been urged to resign after it was revealed the campaign group paid an academic for a newspaper opinion piece published under the banner of an independent charity.
Dr Elliot Bulmer wrote a column for The Herald last month where he branded the "so-called British constitution a mess" before adding "an independent Scotland offers the chance to do things differently."
No mention was made of Yes Scotland in the article and a brief biography of Dr Bulmer next to it cited his role as a research director of the Constitutional Commission.
However, a Yes spokesman has confirmed "a small fee" was paid for the writing of the piece but insisted they had no influence over its content.
Better Together campaign director Blair McDougall said: "How can we believe what they say if they are secretly paying-off supposedly impartial experts? The leadership of Yes Scotland must take responsibility for this and answer these accusations."
A Scottish Labour spokesman called payment for the article "a serious breach of faith with the Scottish people."
He added: "Blair Jenkins has called for the referendum to be an honest debate, yet his organisation appears to be guilty of deep dishonesty and deception. Perhaps one way of ensuring an honest debate would be if Blair Jenkins stepped down and removed himself from it."
A Yes Scotland spokesman confirmed Dr Bulmer had received a payment.
"We can confirm that in the course of a wide-ranging discussion with Dr Bulmer it was suggested that he, as an academic working in a private capacity, might consider writing an article on matters about constitutional frameworks based on his expertise," he said.
"At his request, he was paid a nominal fee for the considerable time and effort he spent on it. We had no input to, or any influence over, what he wrote."
Yes Scotland said police had been called following concerns an email account at the organisation had been "accessed illegally" and that information relating to the matter had been gleaned as a result.
"Given that the illegal breach of Yes Scotland email has become the subject of an extensive and ongoing police inquiry involving detectives from Police Scotland's Digital Forensics Unit, we have under legal advice and at the request of the investigating officers been unable to discuss the content of the email relating to Dr Bulmer," the spokesman continued.
"We would now ask that this serious criminal investigation is allowed to continue unhindered by further unhelpful speculation, accusation and misinformation."
Dr Bulmer said the article was written "in a personal capacity" and there was nothing in the article that would "compromise the Constitutional Commission's position, nor conflict with its charitable remit."
He said: "I accepted fair payment for my work as I, as a freelance academic and contributor, have every right to do. I would do the same if anyone else asked for a working day of my time.
"I had full editorial control and was not given any direction on what to say, neither by Yes Scotland nor by my Constitutional Commission colleagues."
A spokesman for the Constitutional Commission said they had "received no payment".
A Herald & Times Group spokesman said: "We were offered an article for our opinion pages by a constitutional expert, which we accepted in good faith as a valid contribution to the referendum debate. We declined a request for payment and the author's background was made clear to our readers."
The Courier has not seen, nor been in receipt of, any private Yes Scotland correspondence, electronic or otherwise.