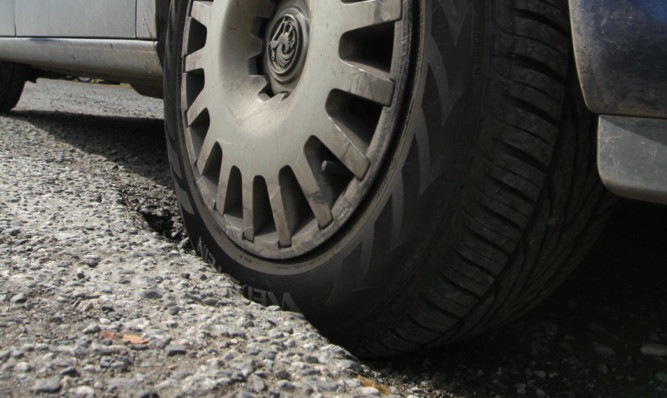 SCOTLAND'S ROADS and communities are being blighted by a multi-million pound plague of potholes, according to a new AA survey.
The motoring association claimed that road, pavement and path conditions were worse north of the border than in any other part of the UK.
The findings come despite local authorities spending a small fortune each year on temporary road repairs.
And with predictions that a chill winter is set to wreak havoc upon roads and pavements once again, the financial burden is expected to increase.
An AA spokesman said that the potholes posed a major safety risk to pedestrians and motorists alike as he called for investment in the country's transport infrastructure.
The figures were based on 800 hours of surveying of road and pavement/path conditions by AA members in their own neighbourhoods in October this year.
Scotland was found to have the worst conditions, with an average of 8.9 potholes per mile on the roads and 2.81 on pavements/paths.
UK-wide, those walking the streets are likely to encounter almost four potholes every mile, while local roads bear the scars of an average of 6.25 potholes per mile.
AA president Edmund King said: "Only recently, the Local Government Association warned that potholes may again become a serious problem this winter with local authority budget cuts biting and no likelihood of extra Government cash.
"Our survey has found that, although patching up the roads after last winter's ravages has brought some improvement, their condition is on a knife-edge and drivers are still likely to have to dodge potholes."
He said that although the AA members noted some improvement this year, there were "continuing problems".
Within Courier Country, Perth and Kinross Council spent £1,003,500 on temporary road patching work during 2011/12.
The local authority is responsible for the maintenance of around 1,500 miles of carriageway and, in the face of predictions for the winter, has allocated a budget of £1,307,000 for all reactive repairs to its carriageways for the coming year.
Within Dundee, the council has been fighting an unending battle against potholes, with around 17,500 filled on the roads network during the first 10 months of 2012.
A spokesman said: "We have found that many of the potholes that have been repaired this year have been significantly deeper than normal.
"The rhino system carries out repairs quickly and effectively but where it is not possible to use it, trials have been carried out with an improved cold fill material.
"It is hoped this will also improve the lifespan of repairs."
And in Angus, just under £1.5 million was spent between April and September this year to repair 3,626 roads defects.
Roads spokesperson Councillor Mairi Evans said: "The council has increased its roads budget year on year, with public safety our main concern.
"Our inspection and repair of the road network is risk based, so higher-used routes are inspected more regularly and larger defects are repaired more urgently."
A budget of £272,000 has been set aside for the repair of potholes in Dundee in the financial year 2012/13.
mmackay@thecourier.co.uk