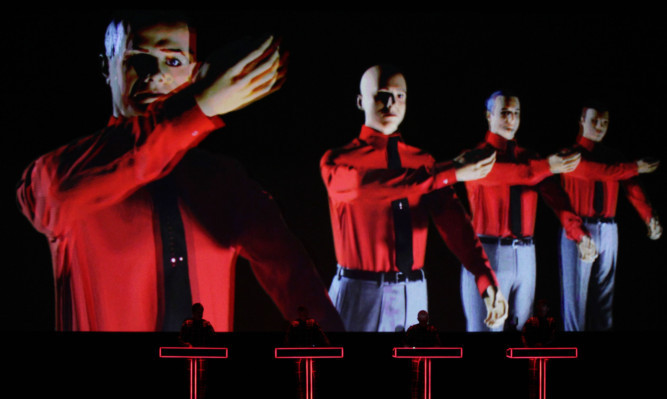 Electronic music pioneers Kraftwerk are to perform at T in the Park this summer.
The German group will make their festival debut in July, performing alongside headliners such as Mumford & Sons, Rihanna and The Killers.
Kraftwerk were at the forefront of synthesiser pop and had a huge influence on dance music in the late 1970s and early 1980s, as well as scoring chart hits with tracks such as Autobahn and UK number one single The Model.
Coldplay took the main riff from Kraftwerk's 1981 track Computer Love for their single Talk.
Kraftwerk, whose name translates as "power station", are playing a rare series of sold-out shows at the Tate Modern gallery in London. Their performance at T in the Park is expected to include 3D visuals, animation and projections.
Geoff Ellis, festival director, said: "Kraftwerk are a truly seminal band. Their revolutionary sound altered the face of contemporary music and paved the way for so many artists across so many musical genres.
"Autobahn was the first album I ever acquired and I witnessed them perform it live in its entirety at the Tate Modern last Wednesday when I was in the audience for the first of their run of shows there.
"They were absolutely amazing and I was blown away it really was a life-affirming night.
"They are a massively influential group and an incredible live act, and we are hugely excited to welcome Kraftwerk to T in the Park for the first time this July, in what will be a very special moment in our 20th year celebrations."
For more on this story, see Thursday's Courier or try our digital edition.