 There were almost three quarters of a million missed hospital appointments in Scotland last year an increase of nearly 25,000. Jack McKeown asks if fining patients is the answer…
In the future if you miss a hospital appointment, it could make your bank account less healthy. That's if plans by the Scottish Conservatives come to fruition. A Tory Party policy consultation paper has floated the idea of issuing fines to patients who miss appointments. So far the Scottish Government has ruled out bringing in charges. However, because the idea has the tentative support of Scottish Labour it could be introduced under a future Holyrood administration.
It comes against a background where the number of missed hospital appointments is spiking alarmingly. A staggering 771,421 appointments were missed in 2012-13, up more than 3% on the previous year.
Figures uncovered by the Scottish Liberal Democrats showed an additional 24,729 "Did Not Attends" (DNAs) last year.
The Lib Dems said the problem costs the health service millions of pounds every year.
The bulk of the extra skipped appointments were concentrated in just two of Scotland's 14 health boards.
NHS Tayside accounted for fully a quarter of the rise. The health board, headquartered at Ninewells Hospital in Dundee, saw missed appointments go from 124,194 to 131,831 a 6% rise. Total attendances were 1,189,846.
Lanarkshire saw an even greater rise, with DNAs going up 10% to 107,909.
Ten of Scotland's health boards reported increased figures with only the Borders, Grampian, Greater Glasgow and Clyde, and the Western Isles posting a drop.
Scottish Liberal Democrat leader Willie Rennie called for the NHS and Scottish Government to put their heads together and stop the problem spiralling out of control.
He said: "With Fife and many other health boards reporting big increases in missed appointments, it is clear this is a national problem that has real consequences for local health care.
"At a time when finances are tight it is important that we do what we can to ensure that Scotland's NHS gets the most out of the money we are investing in our health service. We know that missed appointments cost the NHS millions of pounds every year. The fact that the number of missed appointments has increased so significantly in the last year is a real concern.
"We know that technology can help make sure that as many people as possible keep appointments or cancel them in good time when this cannot be avoided. Ministers need to work with our NHS to reduce the number of missed appointments."
A Scottish Government spokesman said: "It is for individual health boards to decide how to tackle this issue, but all health boards are working to provide and optimise use of reminder services, including use of text and phone reminders.
"Health boards are also working to give patients more choice over the time of an appointment to help reduce the number of appointments that are missed."
So, is hitting appointment-missers in the pocket the answer? A spokesman for the Scottish Conservatives was careful to highlight that charging people for missed appointments is only under consideration and is not yet official Tory policy. He said: "As part of our ongoing review of health policy and following discussions with those with interests in healthcare, we are considering a number of potential initiatives and seeking the views of our members and others before proceeding further.
"There are lots of things to consider, particularly with regard to reducing the number of DNAs, given the considerable cost to the health service and the unfairness to others waiting for appointments; for example, the variable ways in which health boards currently notify patients of appointments.
"This is just one possible way of encouraging people to be more responsible with our National Health Service."
Asked who was to blame for the rise in DNAs, the spokesperson said the Scottish Tories believe it's the responsibility of patients to attend appointments.
He added: "This issue is a real headache for hospitals and the NHS, and an incredible waste of time, money and resources. It is important people take responsibility for attending these appointments and if they know they're not going to make it, they have to contact the hospital. Where patients are vulnerable and this may not be possible, it is up to the NHS to make sure they have the help and support available to fulfil these appointments."
Dr Alan Cook, associate medical director for NHS Tayside, said: "There can be all sorts of reasons why people don't turn up. They might feel like their condition has improved or they have been unable to get time off work or organise childcare, or they might simply have forgotten.
"But missing an appointment means we've been unable to offer it to someone else who needs it. It also has an impact on the patients as they could be waiting to be seen again, which could then delay their treatment.
"I believe it's up to staff and patients to work together to improve the situation. We are trying out a number of tactics to achieve this, including text and voicemail reminders and systems where patients can choose their own dates."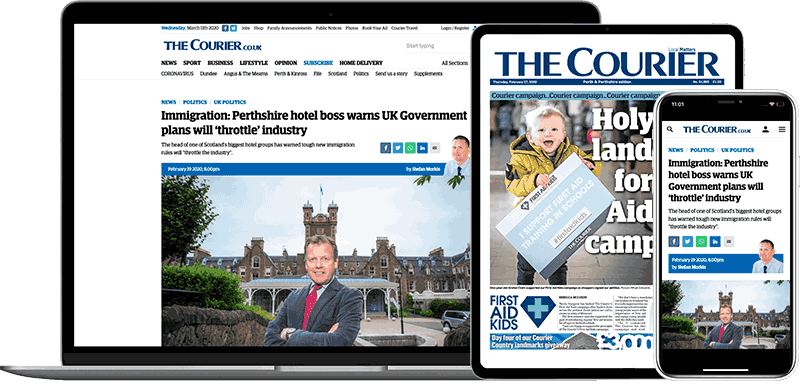 Help support quality local journalism … become a digital subscriber to The Courier
For as little as £5.99 a month you can access all of our content, including Premium articles.
Subscribe