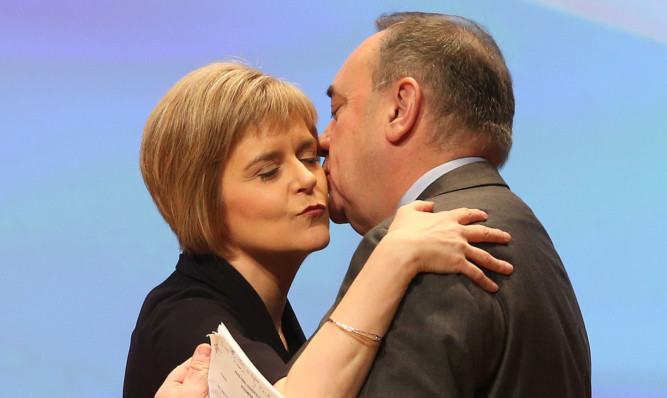 Nicola Sturgeon has criticised her government's former view of London as a threat to Scotland's economy and pledged to engage more closely with the UK capital to find business opportunities for Scotland.
Ms Sturgeon today announced a £78 million innovation fund to encourage businesses to come up with 1,000 new commercial products to improve the wellbeing of the people of Scotland and around the world.
It comes on the back of the announcement earlier this month that the Scottish Government will establish three new innovation and investment hubs in London, Brussels and Dublin.
In a speech to the Scottish Council for Development & Industry (SCDI), Ms Sturgeon said the Scottish Government has "for too long seen London as a threat".
Her predecessor Alex Salmond described London as "the dark star of the economy, inexorably sucking in resources, people and energy" during the referendum campaign last year while Ms Sturgeon was serving as deputy first minister and cabinet secretary for investment.
SCDI chief executive Ross Martin said there has been a noticeable shift in the Scottish Government's attitude to business from "dour" to "do-er" since Ms Sturgeon took over as First Minister.
Ms Sturgeon said: "This is probably a self-criticism of the government as opposed to trying to suggest it has been a feature of businesses, but I think for too long we have seen London as a threat.
"We've seen London almost, in economic terms, a rival.
"Of course we will want to compete and be competitive, but actually I think there is more in it for us to see London as an opportunity.
"It's a major international centre. Businesses and companies will seek to locate and to invest in London, but as they expand they might see Scotland as good value place to expand into.
"So, particularly with London, it is about seeing it as an opportunity not just as a rival in terms of economic investment."
She said the business hubs are "intended to be places where connections are made, where there can be a Team Scotland approach and where we can actively go and look for the international connections there".
"We hope to have them up and running in the first part of next year," she said.
"The key principle behind them is the understanding and the recognition that we have to reach out if we want to be the best place to do business, we can't just expect people to automatically find their way here.
"We have to go to where companies and others are and actually make those connections ourselves."
Mr Martin said there has been a new "emerging landscape" of business engagement from the Scottish Government since Ms Sturgeon took over.
"Somebody summed this up last week for me when I was asking them about their view of the positioning of the Scottish Government," he said.
"They, rather tongue in cheek, said: 'They're going from dour, as in 'ye cannae', to do-er, as in 'ye can'.'
"I think that was a pretty neat summation of (Ms Sturgeon), and that is what Nicola has brought to the post in the almost a year since taking over as First Minister.
"It's certainly an engaging relationship that we have between SCDI and the Scottish Government."