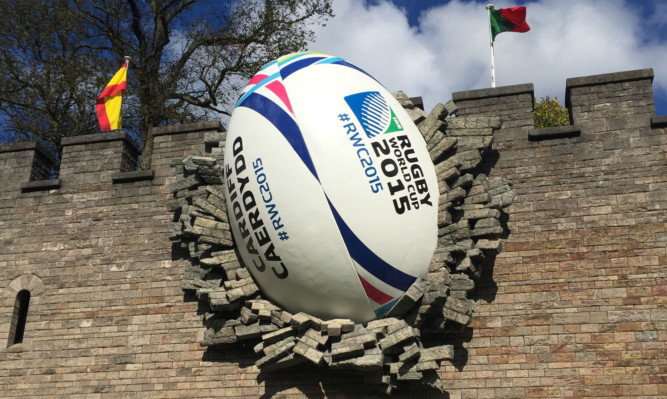 A giant rugby ball "crashed" in to the walls of Cardiff Castle to mark the start of the Rugby World Cup.
People in the Welsh capital were greeted with the unusual sight ahead of two matches to be played at the Millennium Stadium this weekend.
Although England are the tournament's official hosts, Cardiff will play a key role in Rugby World Cup 2015.
Prince Harry and the Duke and Duchess of Cambridge will join thousands of sporting fans for the opening ceremony of the competition on Friday night.
The royal trio will be at Twickenham when England, who are hosting the tournament, play in the opening game against Fiji.
Prime Minister David Cameron, who described the World Cup as a "compelling spectacle", will also attend.
He said: "The tournament promises to be the best ever and it will leave a lasting legacy for the sport in our country and around the world.
"The sporting drama of the coming weeks will inspire tens of thousands more people to pick up a rugby ball and play the game, and the RFU is investing millions more in clubs up and down the country, training more coaches, and reaching out to make sure rugby is played in more schools.
"The whole country will join with the cities hosting games in England and Wales to offer the warmest of welcomes to visiting teams and fans – and I wish all four Home Nations the very best of luck."
As well as hosting eight games, Cardiff – which is the only non-English host city – will also host a month-long Fanzone. It features big TV screens, entertainment, food and drink as well as rugby activities.
And the sight of a giant rugby ball appearing to have smashed the brickwork at the city's castle has added to the excitement even further.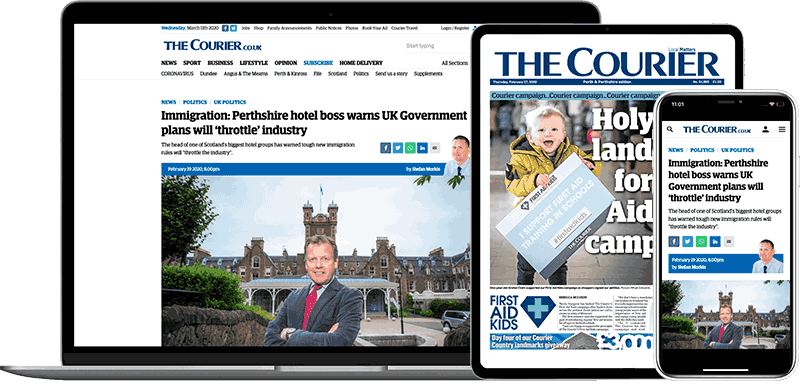 Help support quality local journalism … become a digital subscriber to The Courier
For as little as £5.99 a month you can access all of our content, including Premium articles.
Subscribe