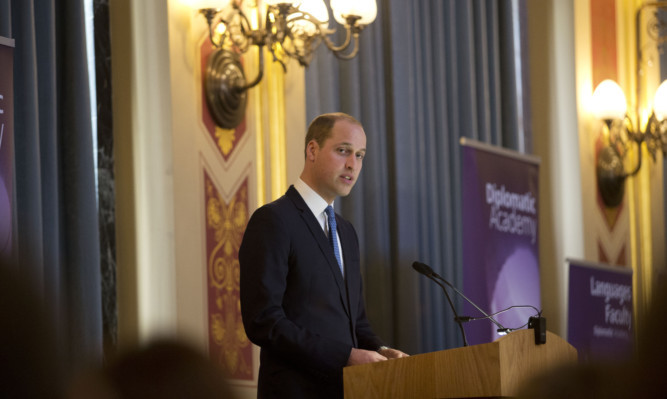 The Duke of Cambridge has praised the Queen ahead of her 90th birthday for the "unparalleled role" she has played in foreign relations during her reign.
William paid tribute to his grandmother during a visit to the Foreign and Commonwealth Office (FCO) where he also highlighted how "extremely well" the department handled the Tunisia terrorist attack last year.
At the FCO headquarters in Whitehall, the Duke presented awards to embassy staff from across the globe who have shown leadership, creativity and innovation, and other attributes when supporting the learning of others at the department's Diplomatic Academy.
The institution was opened last year and provides career development training for FCO staff who want to gain greater knowledge about topics ranging from economics to defence and security.
He told Foreign Secretary Philip Hammond and recipients of the inaugural Diplomatic Academy awards: "As the Queen approaches her 90th birthday, it is worth reflecting on the unparalleled role that the Queen has played in foreign relations and with world leaders during 63 years of unbroken service to the nation and Commonwealth.
"This is the same duty to nation and commitment to the wider common good that I see in Her Majesty's diplomats as I travel around the world.
"That association between the Diplomatic Service and the Queen holds true for me, too. In many ways, your mission is also mine."
The Duke went on say: "In an increasingly turbulent world, our ability to unite in common action with other nations is essential. It is the bedrock of our security and prosperity and is central to your work.
"Right now, the big questions with which you wrestle – in the UN, Nato, the Middle East and elsewhere – are predicated on your commitment to working in partnership with others.
"I know from my own experience how important that is. A subject that is close to my heart, the illegal trade in ivory and rhino horn, cannot be solved without nations working together in new ways."
During the visit the Duke met staff working across a diverse range of posts, and learnt more about how they operate as a global network to represent UK interests abroad.
In basement offices he visited the FCO's crisis management centre to see how staff respond at short notice to the aftermath of terrorist atrocities or natural disasters.
When he walked into the room he joked about how eerily quiet the large open plan office was and the staff laughed.
He asked Joanna Roper, the FCO's director of consular, what the threshold for a crisis was and she replied "If it feels like it, it is a crisis".
The Duke chatted to the rapid deployment team who are on standby to leave the country at two-hour's notice, and flew out to Tunisia last June after the terrorist beach attack killed 30 British holidaymakers.
William told the group "What I saw from the outside, it seemed extremely well handled," and before leaving told them "well done".
Martin O'Neill, the group's team leader, said about Tunisia: "We were there the following morning, our job was to help the British nationals affected get back to the UK, help the injured, identify the deceased and get them back."