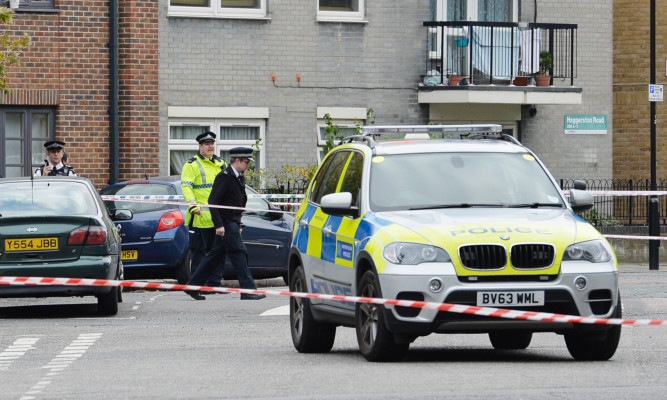 A policeman has been taken to hospital after being shot during an armed raid in east London.
The officer, who is stable in hospital, was shot in broad daylight in the middle of the street in Hackney.
Locals said the officer, named locally as Nick, was chasing suspects fleeing the raid when one of them turned around and shot him at 12.45pm today.
Residents said Clarissa Road in Haggerston was lined with undercover police in cars when "at least two shots" rang out.
Business owner David Salvester, 28, said it was obvious they were on an undercover operation when one plain-clothes officer shouted: "Nick's been shot."
Mr Salvester said: "We were in the house and we heard a bunch of yelling. We went outside and there was a bunch of officers in green with their dogs.
"They had helmets and machine guns, I think.
"That's the point we heard the gun fire. They were all scrambling about. It was two shots, I think.
"The whole road was filled with undercover police. They all burst out of their cars (when the shots went off).
"Then there was a woman shouting: 'Nick's been shot, Nick's been shot'.
"She started getting all her first aid stuff out of the car. She was calling out a lot. There was obviously some kind of raid."
He said local people began shouting at police to tell them which way the suspect went.
He said: "We grew up in LA so we are more used to gunshots over there, not here."
Kaner Korbay, who owns nearby dry cleaners Bree-Zee, said: "There was a raid on a house in Scriven Street, they tried to get away and the police were chasing them.
"One of them shot the policeman. Right in the middle of the street, the centre of Haggerston Road.
"I heard the noise of the gun, two rounds I think.
"Within 30 seconds the police were everywhere, blocking the road.
"I saw the police officer getting treated with his shirt off.
"I think he was shot on his shoulder, they were covering his shoulder with bandages.
"Within five minutes he was taken to hospital by air ambulance, it landed in Haggerston Park.
"I saw one of the guys in handcuffs next to the wall."
He added: "There were undercover officers and police officers with guns running around everywhere.
"They were armed with machine guns."
A man was arrested at the scene, the Metropolitan Police said.
The injured officer was taken to an east London hospital by air ambulance where he remains in a stable condition.
The Metropolitan Police said officers from their Specialist Firearms Command (SCO19) and Trident Area Crime Command had been taking part in an "authorised firearms operation" when the shooting happened.
A local woman, who asked not to be named through fear of reprisals, said: "This is a really rough area.
"I heard a gunshot and saw loads of police rushing with dogs. People were screaming."
Nilesh Kalawadia, who owns Friends newsagents nearby, said: "I thought it was fireworks, I just heard the bang, and saw lots of disruption outside.
"There were lots of police standing outside – 50 or 60."
Several streets in the area were roped off while officers in forensic suits conducted inquiries.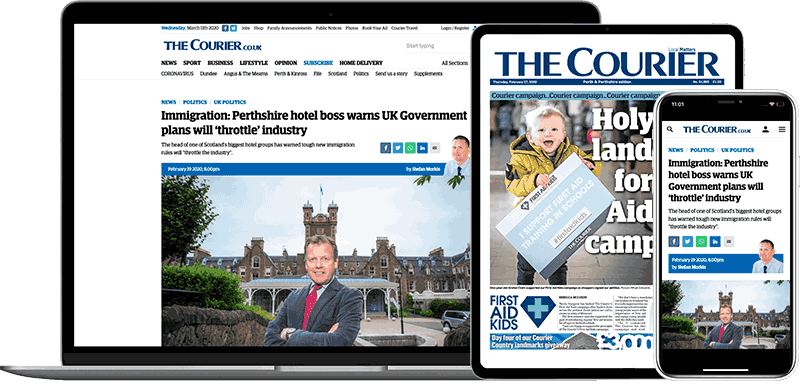 Help support quality local journalism … become a digital subscriber to The Courier
For as little as £5.99 a month you can access all of our content, including Premium articles.
Subscribe