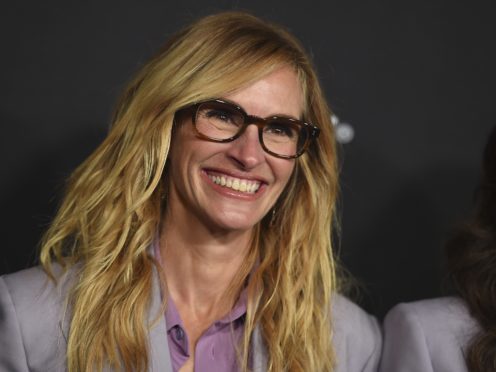 Julia Roberts, Jeff Goldblum and the stylists who keep stars looking their best have been honoured at the InStyle Awards in Los Angeles.
Stylists, designers and celebrities from Jennifer Aniston to Clare Waight Keller, who designed the Duchess of Sussex's wedding dress, gathered at The Getty Centre for drinks and dinner at the fourth annual InStyle Awards.
The event celebrates those behind the scenes, like hairstylist Chris McMillan, who created The Rachel hairstyle named after Aniston's character in sitcom Friends, and makeup artist James Kaliardos, who counts Hillary Clinton and Rihanna as clients.
While many of the speeches stayed light and breezy, Notting Hill writer Richard Curtis, who was tasked with introducing Roberts, the evening's "style icon", recounted a story about when the actress discovered his daughter was ill.
"She took off her Jimmy Choo shoes that she was wearing and gave them to us to give to our daughter," he said.
"I remember her wandering around Knightsbridge with no shoes on and I thought that is exactly the quintessence of who she is — completely gorgeous and completely normal and human and modest at the same time."
When Roberts took to the stage, she said Curtis' introduction had made her cry.
Crazy Rich Asians star Constance Wu was also given a special honour.
She said: "I care about Asian-American representation and some people think my job is a little silly and it definitely can be sometimes, but it can also mean a lot.
"This past summer when I was doing my Crazy Rich Asians press tour, I met so many Asian-American people who would come up to me in tears, telling me how much it meant to them to see an American movie that valued a story, a face, a culture that was like theirs."
Goldblum took a more irreverent route with his wide-ranging speech in accepting the Man of Style award in which he talked about everything from his wife's rhythmic gymnastics accomplishments and his own jazz piano playing to his zebra print socks and leopard print corduroys.
"A lot of what I'm credited with comes from the reflected elegance and grace that comes from being in any way associated with or near her," Goldblum said of his wife, Emilie. He went on to praise her skills as a mother.
"Now more than ever with our current situation we need women to save us and to conspicuously exhibit their power and leadership," he said.
Other attendees included Connie Britton, Awkwafina, Ellen Pompeo, Rebel Wilson and Chrissy Metz.