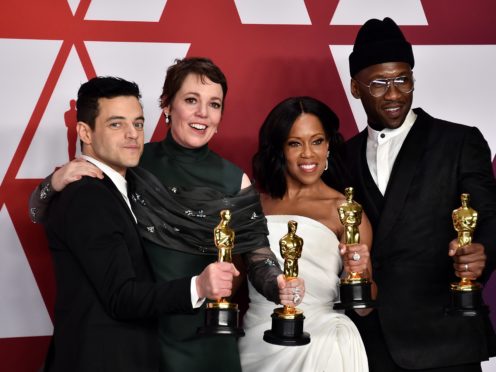 This year's crop of awards for acting on the big screen produced the most ethnically diverse line-up of winners for more than a decade, new analysis shows.
The number of non-white actors who triumphed at the Oscars, Baftas, Golden Globes and Screen Actors Guild Awards was the highest since 2007.
More than half of the awards up for grabs – 10 out of the 18 – went to non-white stars.
That includes a clean sweep of wins by both Rami Malek and Mahershala Ali, for their roles in Bohemian Rhapsody and Green Book respectively.
Regina King also took home an Oscar and Golden Globe for her performance in If Beale Street Could Talk.
The total number of wins not only equals that in 2007 but is also the highest since the current 'big four' ceremonies were established in 1995 with the launch of the Screen Actors Guild Awards.
Analysis by the Press Association reveals how little diversity there has been at awards ceremonies in recent years.
There was not a single non-white winner in any of the film acting categories on four occasions during the past decade: 2011, 2013, 2015 and 2018.
In total, 12 of the 25 years since 1995 have produced an all-white list of winners, while a further four years had just one non-white winner.
An exception to the trend came in 2007 when Forest Whitaker, Jennifer Hudson and Eddie Murphy scooped 10 awards between them.
In 2008, the number of non-white winners fell to just one and then to none at all in 2009.
The diversity of 2019's winners follows years of criticism levelled at awards ceremonies for their lack of inclusiveness – typified by the high-profile #OscarsSoWhite social media campaign in 2015 and 2016.
In both of those years, every single nominee for an acting Oscar was white.
In response, the Academy of Motion Picture Arts and Sciences – the organisation that votes for the Oscars – made changes to its membership to improve gender and ethnic representation.
History was made this year as the first time that three of the four acting categories at the Oscars were won by non-white actors: Rami Malek (best actor), Mahershala Ali (best supporting actor) and Regina King (best supporting actress).
At the Baftas, it was only the second time non-white performers have won both best actor (Malek) and best supporting actor (Ali) in the same year.
The wait goes on for another history-making moment – the first non-white winner of the Bafta for best actress.