 The heat is on for George Osborne. After steering the UK economy to its first credit rating downgrade in more than a generation the Chancellor is facing a Budget day barracking from the Opposition benches.
And his big moment comes hot on the heels of his boss David Cameron being involved in an embarrassing spat with the Office for Budget Responsibility a body he set up.
The Prime Minister claimed the OBR had made it "absolutely clear" his deficit-reduction measures were not responsible for the current economic stasis, but just 24 hours later it was absolutely clear they hadn't.
So, all eyes will be on the Chancellor's despatch box performance next Wednesday as he attempts to wrest back some credibility following the most difficult days of his tenure.
There is an increasing restlessness among a business community desperate for evidence of growth of almost any kind.
The lobbyist group CBI and British Chambers of Commerce fired early shots across the Treasury's bow at the weekend with Budget submissions calling for radical action to reshape the UK economy.
The CBI want £2.2 billion shifted from current spending to focus on high growth areas, including £1.25bn to be earmarked for the construction of 50,000 affordablehomes.
They claim such a move would create 75,000 jobs and give a shot in the arm to a depressed construction sector which continues to drag like an anchor on the wider economy.
The BCC put forward a package of measures costed at almost £30bn over three years to drive growth, and warned the Chancellor if no progress was made this year a change of course was required.
It said the Government had to deliver on promises already made including getting the long-awaited British Business Bank up and running and incentivising the private sector to invest in infrastructure projects and also called for a three-year freeze on rates, an expansion of support for exporting companies and the introduction of a voucher scheme that would allow ambitious SMEs to spend up to £5,000 on business critical advice and support.
Each measure and hundreds of others that will come his way in the coming days has its merit and you can bet your bottom dollar the Chancellor's economic advisers are scrutinising each and every suggestion in the hope of finding a pathway to growth.
There will be the inevitable rabbit pulled from the hat to put a shine on proceedings, but the UK economy is a long way from where any resident of Number 11 would want it to be.
The Chancellor is stuck between a rock and a hard place with the coalition's determination to drive down the UK's national debt a laudable aim when taken in the round all but scuppering the chances of achieving sustained growth within the wider economy and freeing up cash for much-needed grass-roots investment.
The reality is Mr Osborne is facing another difficult day at the office next week, and his chancellorship is at risk of being remembered for the bad rather than the good.
Another poor week for the banks.
RBS which, lest we forget, is 82% taxpayer owned continues to stagger from one PR disaster to another.
Just days after booking a £5.2bn loss for 2012 the Edinburgh giant saw its cash machine systems go down depriving customers of access to their own cash for the second time in a matter of months.
Fast forward a couple of days and RBS had the toe-curling duty of informing the world about its top earners.
It revealed a total of 93 staff across the group were paid more than a million pounds last year.
RBS was not alone in risking public ire, with Antonio Horta-Osario boss of part taxpayer owned Lloyds under the cosh for his seven-figure payout and a £375m bonus pot for executives.
The banks especially those which were bailed out claim they must pay the going rate for the best people.
But they must ensure economic failure is not rewarded and with both banks still making millions in losses it is easy to see why the public may feel they are being treated with contempt.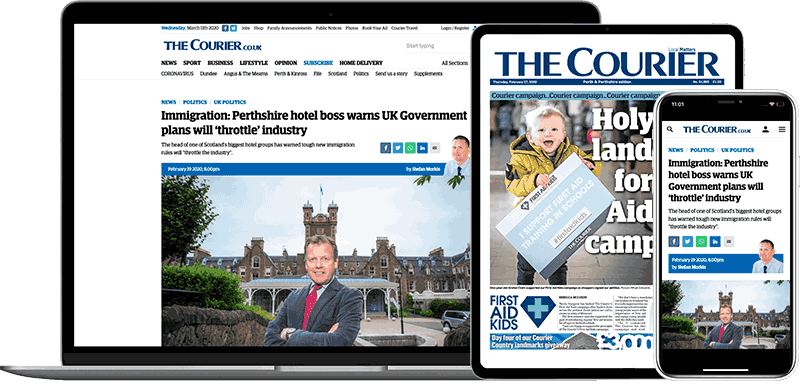 Help support quality local journalism … become a digital subscriber to The Courier
For as little as £5.99 a month you can access all of our content, including Premium articles.
Subscribe