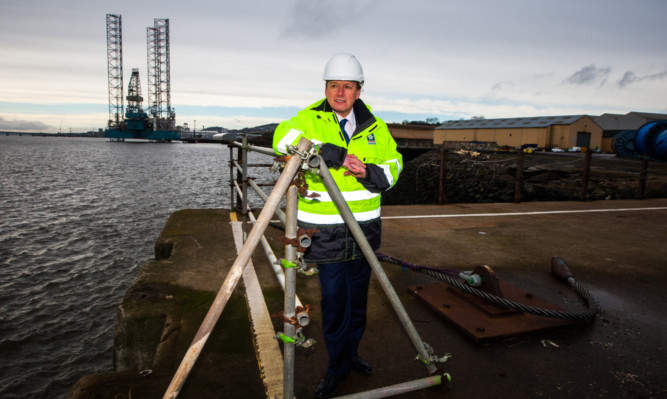 Everyone in Dundee knows our port has been the lifeblood of our history. When our port has been busy, there has been employment.
However, the days of our harbour and riverfront being a bustling hub of activity are gone.
The stories my father tells me of boys darting between men working on the quay as ships were unloaded in the 1950s seem now to be the preserve of sepia photos in the Central Library.
While we still have people working on our waterfront, it is a mere shadow of the days when the river supplied and employed our city.
However, I believe the Tay can once again be the gateway of employment opportunity but this time for good waged, quality, secure, industrial jobs if only our leaders have the vision and will to make it happen.
Like most Dundonians, I never tire of looking out on to our beautiful river and am acutely aware, especially with the recent flooding, how lucky we are with our geography. With the waterfront development work well on its way, I am excited about the regeneration.
That investment is welcome and I count myself as a big supporter of this project but if Dundee is to overcome the economic challenges it faces, we need more than just a waterfront we need a working river.
We need proper skilled jobs and opportunities for the people of the city and we need to take action if we are to bring them here.
In the past, industry didn't come to Dundee by accident. The skills and facilities in whaling, weaving and shipbuilding we had here meant it made sense for jute to make its home by the Tay.
Home for industry
Now we need to make sure engineering skills and the deep water and quayside facilities we have here make us the natural home for the industries of the future.
I have long argued that one of those we should be trying to bring to Dundee is decommissioning the dismantling of the rigs, platforms and pipes no longer needed in the North Sea.
Oil companies signed legal agreements in the 1970s to properly dispose of their equipment at the end of its life and that is time is fast approaching. Half of all decom work will be done between 2019 and 2026: just three years from now.
Many of those platforms and oil rigs which took the "black gold" from the depths of the North Sea have to be disposed of. This presents another opportunity to create good jobs and I am utterly determined Dundee should get its fair share.
Experts forecast decommissioning could be worth more than £30 billion and thousands of skilled, well-paid posts.
I have had meetings with many of the key players, including oil companies and they are in no doubt we can bring these jobs to Dundee.
This week, our chances of securing some of those jobs received a shot in the arm from the port authority, which has announced £10 million of private investment in the quayside with a view to winning large-scale decommissioning work.
With the significant quayside space for the deconstruction work and the deep-water berth, we are perfectly placed to take advantage of the emerging North Sea sectors.
However, I doubt whether this can be done by the private sector alone. Forth Ports indicated the same this week.
They are convinced, as am I, that we will need government support to make these jobs into a reality.
So far I have been dismayed at the lack of political will that exists to make this happen, from the Scottish Government in Edinburgh to our own city council in Dundee.
Already, these jobs are literally sailing past us, with these oil platforms being towed to the North East of England to be taken apart.
And the reason workers in Hartlepool are busy tearing apart North Sea rigs is their regional development agency poured money into quayside regeneration which attracted industry in a competitive market.
Aberdeen ahead
Now Aberdeen is moving ahead of us after the SNP and Tory Governments signed off a multi-million investment in its harbour.
So far, more than £500 million has been pledged to Aberdeen while a city deal for Dundee is still "under discussion".
It seems obvious that £10 million of private money in our city can't compete with that £500 million of public money.
It is not fair that the SNP Government should favour Aberdeen for investment when it is clear our city needs these jobs.
Dundee has consistently put its trust in the SNP in Dundee for 10 years now. The First Minister really needs to repay this trust with real action.
In the Scottish Parliament, I asked the First Minister just last week if she was prepared to get behind Dundee's bid for North Sea jobs. She has the power to unlock the investment needed.
Sadly, I was given a lukewarm response from the leader of a Scottish Government still in denial about the oil industry and the boom she predicted before the referendum.
Special invite
At the very least, Nicola Sturgeon should be coming to Dundee and meeting the key players to see what can be done. I have invited her to the city and I hope she can spare the time to visit soon.
And I am glad Charles Hammond, chief executive of Forth Ports, has also called on the First Minister to get involved.
He wrote a strong letter to her, pointing out the unfairness of the huge investment in Aberdeen when Dundee is having to make the case for business alone.
If the Scottish Government does not get behind this project soon and continues to neglect Dundee in favour of Aberdeen, there is a danger we will miss this opportunity and the jobs will go elsewhere, something we can't afford.
If we are to truly regenerate our city, we need more than just a waterfront, we need a working river.
And we need more than just investment in buildings and public spaces, we need investment in people, creating jobs and opportunities for them.Read now: Dundee City Council leader Ken Guild responds to Jenny Marra's claims