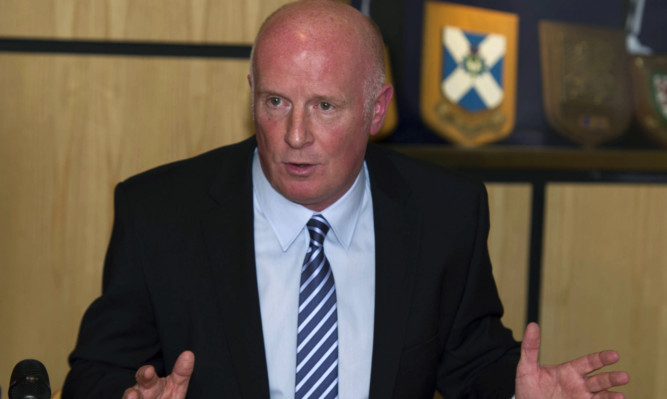 Reputations are hard to rewrite in football, particularly for managers.
Ally MacLeod will forever be remembered as the loveable but woefully misguided Scotland manager who wasn't able to come good on his pre-Argentina boasts.
Craig Levein is Mr No-strikers.
Terry Butcher is the man who presided over one of the most spectacular demises in Scottish football history at Hibs.
And Jimmy Calderwood is the firefighter not to be trusted with a long-term rebuild.
The other stuff (MacLeod's accomplishments at Aberdeen and winning at Wembley, Levein's success at Dundee United and Hearts, Butcher's excellent work at Inverness, and Calderwood's longevity at East End Park and Pittodrie) gets pushed to the margins.
So when one of them does manage to alter perceptions it really is an achievement.
And Peter Houston has done just that.
His good stuff at Dundee United (winning a Scottish Cup and guiding them to consistent top six finishes) was shunted down the page when he departed Tannadice.
Houston was the guy who didn't have faith in United's kids and ran for the hills when budgets were cut.
And then he was mocked when Gauld, Armstrong and co. started tika-taking their way across the Premiership.
Quotes like these were cast up against him: "For a manager the most important thing is to maintain success on the park. However, that's getting harder and harder. The budget is getting cut again in the summer and I want to be part of a successful Dundee United.
"We have some very good up-and-coming young players but they are not ready to be first-team material every week. I have told the board of directors my concerns that if we continue to cut we will not be able to compete on the pitch."
But now at Falkirk, the same Peter Houston has put his faith in Falkirk's kids and is happy to operate under strict budget constraints. The very fact that he's prospering with buttons and Bairns is laced with irony given the nature of his departure from Tannadice. And he's enjoying it.
Back when he was sat in the United boardroom explaining the reasons for his exit that scenario would have seemed as likely as York City becoming a route one team under Jackie McNamara.
Houston may well forever regret underestimating the talent that was at his disposal at United, or it may just have been a case of manager-club fatigue kicking in and the relationship had run its course.
But what isn't in doubt is the fine job he has done in first taking Falkirk to a Scottish Cup final, and then getting the club in the thick of a Championship promotion race after losing some of his best players.
It's almost as if Houston has become the exact opposite of the manager we'd begun to perceive him as, maybe even the exact opposite of the manager he thought he was.
It's a new-found reputation that has a good chance of sticking.