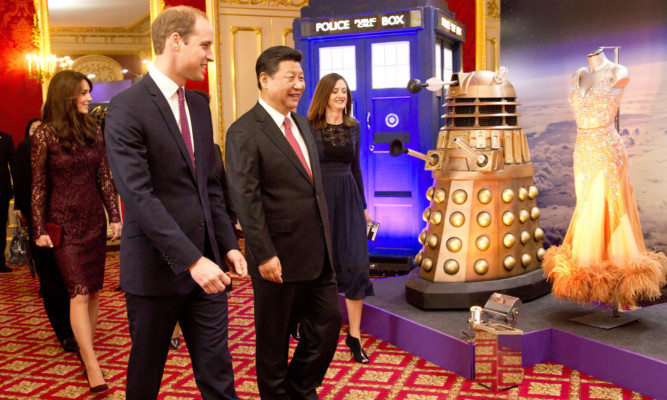 Amid much pomp and splendour, China's President Xi Jinping and his delegation arrived in the UK this week.
The trip has been hailed by officials from both countries as the start of a "golden era" of relations.
Obviously, there are serious issues about this relationship, such as the cheap Chinese steel imports which were a factor behind redundancies in our steel sector with 270 in Scotland alone affected as well as the Chinese government's poor record on human rights.
So the question on many people's minds this week was is this golden era going to be a positive force for change in China and not just economic?
Prince William seems to think so.
In a timely move, he used President Xi's visit to call for Chinese citizens to stop buying illegally traded wildlife products such as ivory and horn to save Africa's rhino and elephants, which are being poached to brink of extinction.
In a speech, to be broadcast to 100 million Chinese people for an edition of Let's Talk, a one-hour current affairs show on CCTV1, he said: "I am absolutely convinced China can become a global leader in the protection of wildlife. Your influence in the world means you can change the face of conservation."
It's a clever intervention by the prince and one I was glad to see him make.
Having recently been to south-east Asia, I was horrified to see so many ivory goods for sale 70% of the world's ivory is destined for China hence the need for intervention.
To its credit, the Chinese government has imposed a one-year ban on the import of ivory, amid criticism that demand among Chinese consumers is fuelling poaching in Africa.
I think Prince William played a blinder this week, cashing in his stock, which has risen significantly since his official visit to China in March and demonstrating how he can use his role and status as a positive force to effect change.
The human rights record in China must improve but animal rights must not be forgotten and it's right that they are championed.