 It was Abraham Lincoln who uttered the fantastic phrase all good procrastinators love: "Give me six hours to chop down a tree and I will spend the first four sharpening the axe."
There is nothing quite like the adrenaline rush of realising you've left yourself the minimum amount of time to do something, despite actually having had ample opportunity to spare such stresses.
If I was being generous, I would welcome Jeremy Corbyn into the fold of putter-offers and reckon he just enjoys doing things at the last minute.
Except I'm not feeling particularly generous and the Labour leader's so-called revenge reshuffle smacked of so much petty score setting it was nothing short of a shambles which sprawled across 30 hours of negotiations.
On the day David Cameron lost control of his Cabinet over the EU referendum, Corbyn sacked his shadow Europe minister Pat McFadden for "disloyalty". Not a lack of competence, not underperformance but "disloyalty".
What kind of a message does that send out to the electorate? What does it say to voters when the government you are supposed to be holding to account is all at sea on a key issue but your priority is to punt the very person who should be scrutinising its position?
Jonathan Reynolds and Stephen Doughty quit their posts over the treatment of McFadden, while Kevan Jones has chucked his defence role after
Corbyn replaced pro-nuclear weapons MP Maria Eagle with unilateralist Emily Thornberry.
It's pathetic. It's unworthy of opposition, never mind government. This logic also applies to the string of angry backbenchers trying to undermine their leader at every opportunity.
The so-called "moderates" I'm thinking the likes of Wes Streeting, John Mann and Simon Danczuk, whose behaviour towards his own party is loathsome without touching on his private life are spending so much time attacking Corbyn they've forgotten about Cameron.
Now the man in charge has sunk to the same level. His top team spent an extraordinary amount of time briefing against his shadow Foreign Secretary, Hilary Benn. The main bone of contention was bombing Syria.
Benn made a passionate speech in favour of military intervention when Corbyn opposed it. Crucially, though, it was a free vote. Why allow MPs to speak their mind if you're going to resent them for doing so?
And the public can hear the mood music, even if it's not aware of the detailed goings-on inside the political bubble. A recent poll asked who people trust more to improve the economy, with 40% saying the Conservatives, compared to just 23% Labour.
This 17-point lead was the
Government's greatest since Labour lost power more than five years ago and comes despite the survey showing satisfaction with the Tories is tumbling.
Corbyn obviously has a massive
mandate from Labour party members. Indeed 66% of them believe he is doing "well", a seven-point increase on his 59% victory landslide.
And I have sympathy with him replacing Eagle after she questioned the leader's ability to be a "potential Prime Minister" if he refused to say he'd use nuclear weapons. That kind of personal jibe isn't really on.
But all of this means a shambolic Labour is letting the UK Government off the hook. It must decide to fight the Conservatives, not itself, if it is to hold any slim hope of a revival.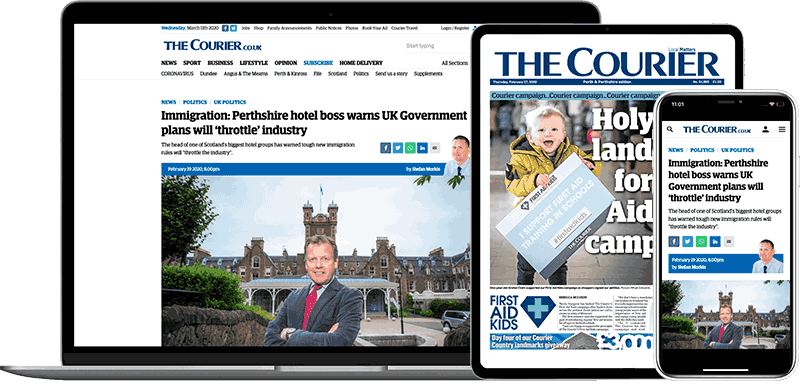 Help support quality local journalism … become a digital subscriber to The Courier
For as little as £5.99 a month you can access all of our content, including Premium articles.
Subscribe