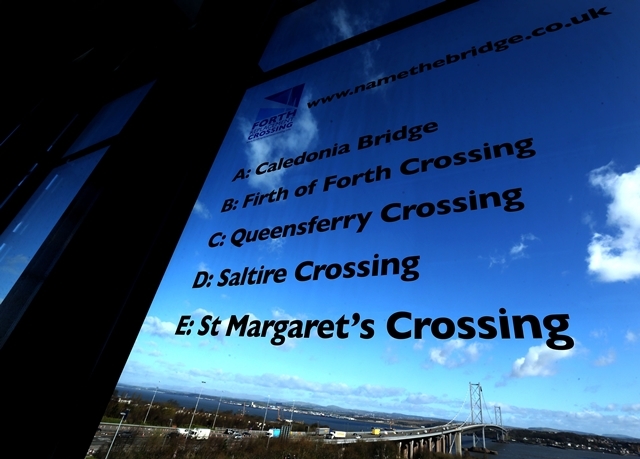 Coming up with names for the new Forth bridge (or crossing as we seem to be required to call it) has been a long, drawn out process.
Making up the list of almost 8000 suggestions took months.The excitement was almost (but not quite) unbearable as the panel of experts painstakingly whittled the vast array of names down to just five potential monikers.
The Scottish public had shown no little wit in coming up with a vast array of contenders, many of which raised if not a titter at least a wry smile.And so it was that a respectful hush fell on The Courier newsroom come 8.45am on the appointed day.
While one may not have been able to hear a pin drop, a knitting needle clattering to the ground would probably have been audible, at least to those standing in the immediate vicinity. Actually even that is probably stretching the truth a bit, but suffice to say there was at least a modicum of interest.
That modicum, sadly, dissipated to statistically unmeasurable levels when the five names were finally revealed to an awe-struck world.
The Caledonia Bridge (yawn), Firth of Forth Crossing (zzzz), Queensferry Crossing (pah), Saltire Crossing (hmmm) and St Margaret's Crossing (almost interesting) were unveiled as possibles.
To think that the bridge would be called "Bob" was probably a dream too far but surely there was room for a bit of humour.The "Back and Forth" bridge had a certain ring to it. As did the "Fifth Forth".But it wasn't to be and humour or even imagination – proved to be simply a bridge too far.
And so we are left with five names unlikely to inspire anything other than widespread apathy.Many have already discounted the Saltire or Caledonian Crossing, branding them "too political".St Margaret's, while at least historically significant and not without a relatively interesting back story, has been called "too obscure".That leaves the Firth of Forth Crossing and the Queensferry Crossing as "just right" (in Goldilocks and the Three Bears parlance).Just right yet insufferably dull.
The huge number of suggestions to identify a span likely to define our generation shows just how successful the idea to involve the public was.A shame the final shortlist is likely to bring all that enthusiasm to a crushing halt.A brief search of social networking sites reveals there has not been a tremendously positive public response.
In fact, as one particularly erudite commentator on this very site rather succinctly sums up: "What a load of keech".
Which opens up a whole new avenue of traditionally Scottish possibilities.The Keech Crossing? The Jakey Jaunt? The Pish Pont?Now that would surely engender healthy debate…