 From the outset, let us be clear; Coming Up thinks the internet is generally rubbish.
Or to put it another way, we wish is could be disinvented and everyone would start using pencil, paper and Bakelite phones again.
Rather than embrace this gift of technological wonder which has opened the world to us, we prefer to stick our fingers in our ears and hope the big beardy man with no tie goes away.
Yet this stance means we, admittedly, do miss a few tidbits of news.
Obviously we have others who can sift through cyberspace for them though and, with such endeavour, they've been collated in one handy package available from Wednesday morning (The Courier, in case you didn't realise).
Undoubtedly your favourite will be the story of Broughty Ferry couple, Scott McRuvie and Lauren Allardyce.
Recently we described how Take That fan Scott had ambitiously tried to attract the attention of Gary Barlow.
In a bid to have the Million Love Songs star sing at their forthcoming nuptials, he took to Twitter to lovebomb him for all he was worth.
Could it be magic? We have the answer in Wednesday's Courier.
Handily placed on the very next page, we have another internet-based tale, bringing together high politics and low level Courier Country football.
And we'll be answering the question of why the likes of Kevin Moon, Andy Jackson and Chris Templeman have been the focus of Whitehall attention recently.
Rounding off our web trawl, we researched the career of Fife bodybuilder Ross Kerr for a truly smashing story.
Dear reader, you will have to wait until Wednesday for the full story in our very own paper and ink version of The Courier. Buy it. Please.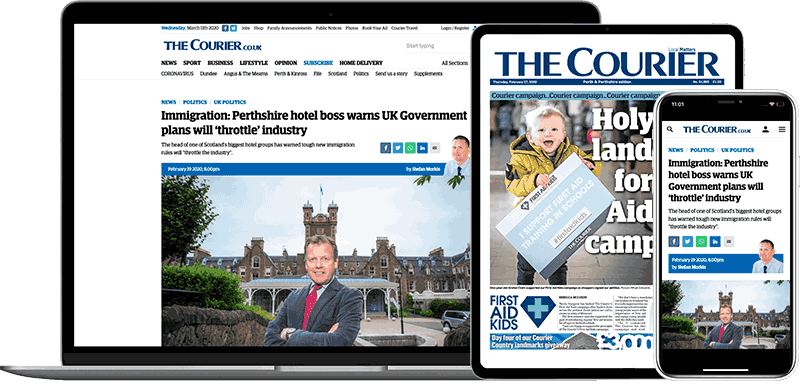 Help support quality local journalism … become a digital subscriber to The Courier
For as little as £5.99 a month you can access all of our content, including Premium articles.
Subscribe