 "Poorly organised and unprofessional".
If somebody said that to you just think for a moment how you would react.
It is not a situation that has ever affected any of us in Coming Up Corner (obvs) but we can readily imagine the kind of feelings such a strongly-worded reprimand could evoke.
Firstly, one would feel hurt possibly leading to a slight colouring of the cheeks, next a rather fruity word or two may escape your lips and thirdly there would undoubtedly follow the imposition upon one's soul of an uncomfortably dark and deep depression.
Not at all nice, in short.
In Wednesday's Courier we find out how DF Concerts have reacted to just such criticism (word for word in fact) after nature bodies hit out re: proposals to relocate T in the Park.
They say the impact on birds and trees could be simply ghastly if appropriate action is not taken. Hence those strong words mentioned atop this article.
It is enough to make one shudder.
In brighter news, however, we catch up with the death-cheating driver of a tanker which careered off a road and ended up in a river last week.
He is making a remarkable recovery and has some warm words for the "Florence Nightingale" lady who came to his aid.
Lovely stuff. Jolly heartwarming too.
And while we on the subject of heartwarming, let's talk death.
We have remarkable news of the bid to recycle metal recovered from the bodies of people incinerated at local crematoriums.
Hip replacements, fillings…the metal always comes in handy.
When I said it was heartwarming, I meant it in a very literal sense.
Meanwhile, which politician said (of money offered to Labour candidates by Tony Blair): "All great Neptune's oceans will never wash this blood-stained man's money clean"?
Was it:
(a) Gyles Brandreth
(b) Lembit Opik
(c) George Galloway
You may not need the paper to get the answer to that one, but in for nothing else than the sake of completeness we shall provide it.
* It's going to another winning Wednesday for Courier devotees. Please ensure you snap up your copy. Failing that, there is another option in the form of our super digital edition. Why not give it a whirl?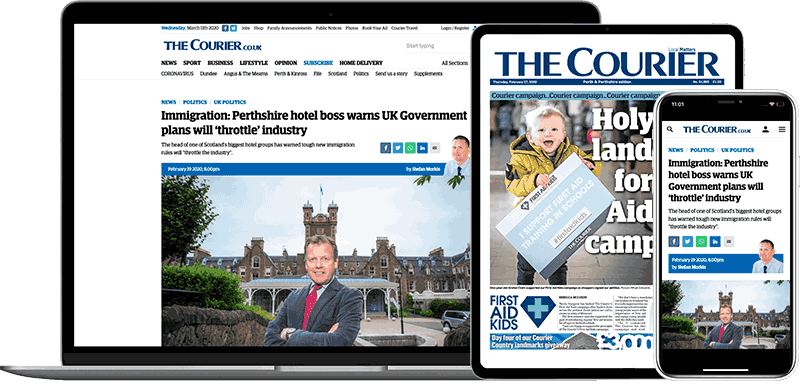 Help support quality local journalism … become a digital subscriber to The Courier
For as little as £5.99 a month you can access all of our content, including Premium articles.
Subscribe