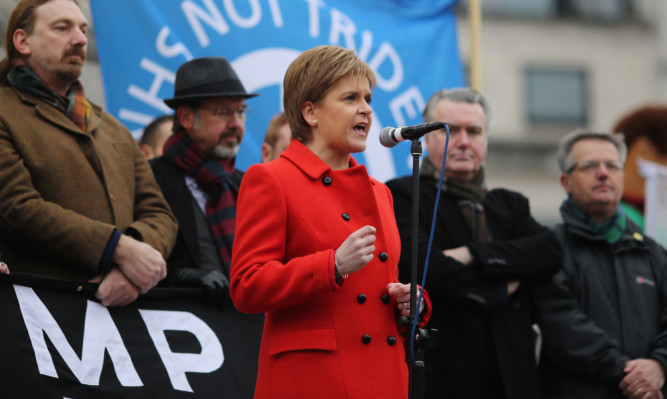 What possessed Nicola Sturgeon to share a platform with Jeremy Corbyn over the weekend, in an old-style CND rally?
The Scottish First Minister, once hailed as a refreshingly pragmatic politician beside some of the nuttier idealists in her party, has taken a few wrong turns of late but this time she seems to have completely lost her way.
The SNP's opposition to Trident is set in stone or in the Nationalists' DNA, according to former leader Alex Salmond, who suggested last year that the £100 million renewal of the nuclear deterrent could trigger a second referendum.
We might expect that kind of comment from the man who also advocated the unilateral declaration of independence.
But Mrs Sturgeon was supposed to be more sensible. Her support for causes close to the hearts of her politically-naive grassroots, including that repeat referendum, is usually tempered by caution.
Yet there she was in Trafalgar Square on Saturday, rabble rousing alongside Mr Corbyn, a laughing stock leader even in his own party, and joining a campaign that would cost thousands of jobs in Scotland.
She has put herself on a collision course with the organised working class and, in particular, with one of Britain's biggest trade unions.
The Scottish secretary of the GMB, Gary Smith, told the BBC's Sunday Politics Scotland programme Mrs Sturgeon's actions were "infantile". He warned that it was not just workers at Faslane in the lower Clyde who would go if Trident were scrapped, but also at BAE Systems on the upper Clyde and at the dockyard in Rosyth.
Some 450 companies are said to be involved in the supply chain of the UK's four nuclear-armed submarines.
Mr Smith said he would challenge Mrs Sturgeon to a debate in front of nuclear industry workers after she pledged to make Trident an issue ahead of May's Scottish election.
"This is student politics, this is an utterly indulgent debate, these are political posers who, rather than talking about real issues or taking up real concerns of the working class communities, are happier on marches threatening to sack workers in Scotland," Mr Smith said.
She seems to have convinced herself that it is a subject central to Scottish voters, but outside her own narrow circles, it is not the divisive topic it once was.
There is no reason even to believe that Scots are opposed to nuclear weapons. A Glasgow defence expert, Dr Phillips O'Brien, said last autumn, when Mr Salmond made his DNA comments, that it would be "very risky and probably unwise" for the SNP to use Trident as the trigger for another referendum.
"There is no convincing statistical evidence that a significant majority of Scots are opposed to Trident," he said.
A YouGov poll around then showed 53% of Scots backed the retention of nuclear weapons against 37% who thought they should be abolished. Even among SNP supporters there was no majority favouring a ban.
Opposition on ideological grounds has melted away as the international situation has grown ever more precarious, strengthening the appeal, among most sections of society, of a strong nuclear deterrent.
Mrs Sturgeon's spokesman said she is in tune with "the views of the majority of Scotland's political, civic and religious representatives" but these are simply the small band of people she talks to.
If she were to spend less time hobnobbing with her London comrades, and did not always mix with establishment hangers on in Scotland who agreed with her every word, she would discover that voters have other grievances, as Gary Smith pointed out. They are worried about their employment prospects, their ability to afford housing, and maybe their ability to pay the tax increases coming their way if the SNP stays in government. Trident is not on their radar and it shouldn't be on Mrs Sturgeon's.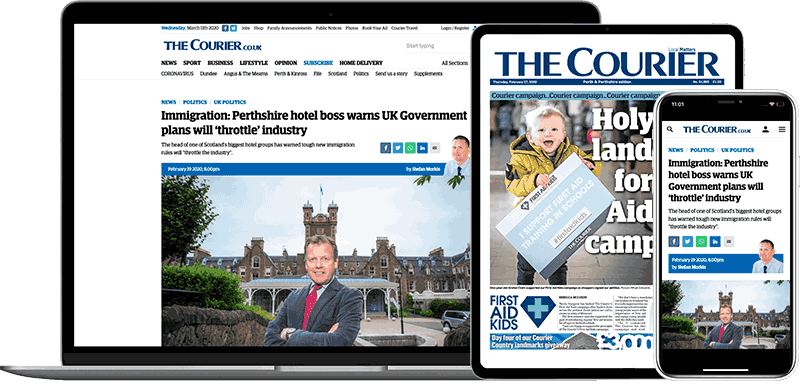 Help support quality local journalism … become a digital subscriber to The Courier
For as little as £5.99 a month you can access all of our content, including Premium articles.
Subscribe