 Today's letters to The Courier.
Sir, – On Sunday I enjoyed my last flight from Belfast to Dundee, as these flights are due to end on December 2.
It seems ironic at a time of Dundee seeking UK City of Culture status that it has proved impossible to sustain air links with Belfast and Birmingham.
I have taught students from Northern Ireland over many years and, universally, they regretted being unable to use this flight due to the high cost. This factor also deterred their parents and extended family members visiting more frequently.
While this represents only anecdotal evidence, it begs the question how an airline serving an area with three universities heavily populated by NI students was unable or unwilling to exploit this most obvious of markets.
The issue became quite stark for me when I attended a meeting in Belfast and my colleague from Birmingham paid less than half the fare I paid with the same airline.
I accept that airline costs are perhaps more complex than a simple mind like mine can appreciate, but wish to add my voice to the many who will miss this service and see its removal as a backward step when we should be embracing and preparing for the very positive changes likely to derive from the V&A.
Dr Brenda Gillies.12 Victoria Street,Newport.
Care comes before profit
Sir, – The council that slashed services for the elderly (in Fife) was led by one Peter Grant. He now has the audacity to criticise Labour's policy of creating a care village for older people.
That plan is both interesting and admirable and relieves all of us from worrying about the privatisation of elderly care. A care village would operate with 12-15 bed areas and that is preferable to the vast, solely profit-making, granny farms that privatisation would have provided.
Privatisation means concentrating on profits.
Mr Grant claims care workers will all be low paid. Does he not know that virtually all care jobs in private homes only get the minimum wage level?
Mr Grant and his SNP and Lib Dem colleagues increased home care charges from £4 a week to £11 an hour. On even one hour of care a day, that is more than 1800% of an increase.
The shopping and pension collection was increased to £7 before it was completely cut. What a caring lot the SNP and Lib Dems are.
Support services have to be available to enable caring families to keep loved ones in community settings for as long as possible. If that becomes impossible, then at least to ensure that residents in homes will be cared for and treated with respect.
Allowing profit to be any sort of justification would be inhumane in the extreme. Choose privatisation and you get blatant profiteering.
The essential support for care at home are the home carers, people who come out in all weather and give support and are always cheery and encouraging. I willingly admit to benefiting from their invaluable help.
Agnes Joyce Smith. 4 Lime Grove,Methil,Leven.
Tax taps could be turned off
Sir, – The recent decision by the judges at the Rangers tax tribunal is an interesting one. If employers are to be allowed to reward employees with "loans", deposited off shore in tax havens, instead of by wages and salaries (taxed), then what about all employers and employees?
I believe that a precedent has been set. Let us hope that HMRC pursues its appeal with vigour and that the UK Government urgently reviews tax laws, before the Treasury finds taps from the private sector being turned off legally.
A T Geddie.68 Carleton Avenue,Glenrothes.
Not under my control at all
Sir, – Your piece on direct debits reminded me of a problem I had when I moved to a smaller house and wished to reduce my direct debit from my RBS account to Scottish Hydro Electric.
I wrote to RBS to ask them to do this and was told the instruction had to come from Scottish Hydro Electric, not me.
I had thought I was in control of my own finances.
Garry Barnett.The Garden House,Campsie Hill,Guildtown,Perth.
Decision is disgraceful
Sir, – The decision by Rotherham's Labour-run social services to remove children from foster carers because they are members of UKIP is disgraceful.
This is Britain, not some tinpot communist dictatorship.
God forbid that the Labour Party in its present form ever runs this country again.
Stuff their political correctness.
George Aimer.82 Kinghorne Road,Dundee.
How do they know this?
Sir, – How does a council's social work service know which party someone is a member of?
Does your local council have a record of the party of which you may be a member?
Mike Scott-Hayward.Chairman UKIP Scotland.Sawmill House,Kemback Bridge,Fife.
Get involved: to have your say on these or any other topics, email your letter to letters@thecourier.co.uk or send to Letters Editor, The Courier, 80 Kingsway East, Dundee DD4 8SL. Letters should be accompanied by an address and a daytime telephone number.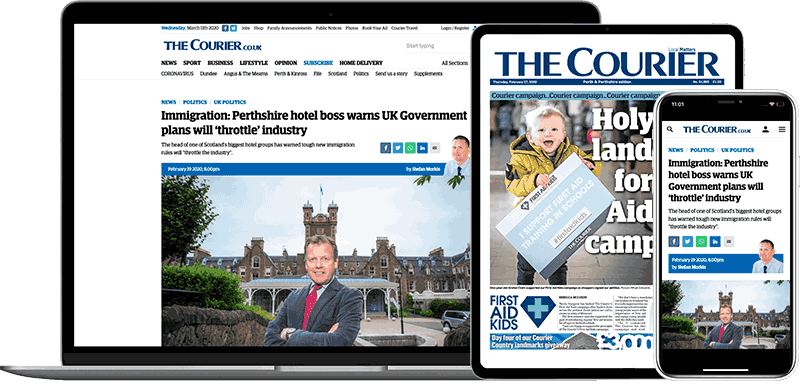 Help support quality local journalism … become a digital subscriber to The Courier
For as little as £5.99 a month you can access all of our content, including Premium articles.
Subscribe