 Today's letters to The Courier.
Sir, – So, yet another inflation-busting hike in electricity prices.
When the Thatcher Government privatised the utilities we were told that competition would keep prices low.
Ha! The only competition I see is the race to announce these increases first, after which the others shed some crocodile tears and then jump on the bandwagon with alacrity.
We have now reached the stage where any pittance of an increase in the old age pension is swallowed up by these annual increases in power costs and then some.
The power companies can now join the bankers and politicians as being the most universally detested people in the UK. Is there any agency with teeth that can control these people?
"We are all in it together," claimed David Cameron. Not if you are a banker, politician or the director of a power company it seems.
There is now an increasing, year-by-year addition to those living in fuel poverty and, unless government does something to rein in these fat cats, matters will only get worse.
Alex Salmond please note if ever there was a more perfect example of why the Scottish Government should not privatise water, I can't think of it.
Jim Robertson.194 High Street,Montrose.
Sir, – With regard to the letter sent by Mr Roy Russell, Balmullo (August 21), in which he discussed the declining passenger numbers at Dundee Airport and highlighted the issue of the costs of fares from Dundee Airport, I must admit at one time I seriously doubted the financial viability of Dundee Airport.
However, having used the Dundee to London services myself on a number of occasions I now have a different point of view.
On my most recent trip to the capital (March this year, booked 40 weeks in advance to take advantage of a special offer) my partner and I flew one-way from Dundee at a total cost of only £97.98 including our luggage and taxes (just under £49 each) and we had a very enjoyable flight.
We were seated together very comfortably and served with complimentary drinks and food and the service was excellent. We had no hidden costs, such as getting to Edinburgh by car or train.
Without being disrespectful to any other airline or any other airport, we have, on many occasions, used budget airlines and had much cheaper fares. However, the service was shabby; huge queues at gates, no choice of seats, no complimentary drinks or food and nothing but bother at passport control and/or retrieving our bags on arriving at our destination.
We have also had the extra costs and hassle of getting to and from Edinburgh, Aberdeen and Prestwick.
We are thinking of using the Dundee to Belfast service some time next year as we have never been to Ireland before and we hope their service is as pleasant as the Dundee to London one.
Kenneth Brannan.42 Greenlee Drive,Dundee.
Sir, – I initially thought when I heard about the Scottish Defence League's proposal to descend on Dundee that we should just treat them with the contempt they deserved and ignore them completely.
However, the arrogance shown by their "leader" in The Courier on Monday made me change my mind.
What a pathetic argument about freedom of speech.
I am so pleased to know that the licensing committee has rejected the initial police proposal for handling the situation.
Nothing could be more likely to lead to trouble than the confrontational geography of each "side" facing the other across the City Square.
I hope now that if any pubs or other possible meeting places are approached to be a venue for the various rag, tag and bobtail involved, they will refuse to sell them even a bottle of water.
One factor in the situation which seems to have been generally overlooked is that that weekend is the start of the arrival of students for the new university session.
We have many overseas students of various ethnic backgrounds, who are extremely important to us in terms of cultural exchange and understanding, as well as financially.
I most certainly do not want them to discover that the City of Discovery is happy to give space to such racist and potentially violent groups.
Mona Clark.9 Millbay Terrace,Dundee.
Sir, – It was wonderful to be at Tannadice last Sunday for the first derby game in seven years. The atmosphere created by both sets of supporters was superb.
It would be great if such an atmosphere could be created at every home game in a full stadium. As well as encouraging the team, the income would help to make the club debt-free. This in turn would free up cash to spend on players etc rather than servicing the debt.
It is great to see that Gussie Park is to have a makeover which will aid youth development and hopefully bring on the stars of the future.
Chairman Stephen Thompson, manager Peter Houston and the coaching staff must be commended for producing such an exciting team under extremely difficult circumstances, especially when you think of the players who have left the club over the past two seasons.
Let's have that derby atmosphere created at every home game.
Lastly, I would like to wish Dundee FC all the best in the SPL.
R Nicoll.22E Hill Street,Monifieth.
Sir, – I read in the article headed: "Panel's poll question suggestion" in Thursday's Courier that a panel of "experts" have come up with the statement: "Scotland should become an independent state".
Surely this is a biased statement not a question? Should the wording not, in fact, be: "Should Scotland be an independent state? The answer being a simple "Yes" or "No".
Robert Patterson.47 Main Street,Strathkinness.
Get involved: to have your say on these or any other topics, email your letter to letters@thecourier.co.uk or send to Letters Editor, The Courier, 80 Kingsway East, Dundee DD4 8SL. Letters should be accompanied by an address and a daytime telephone number.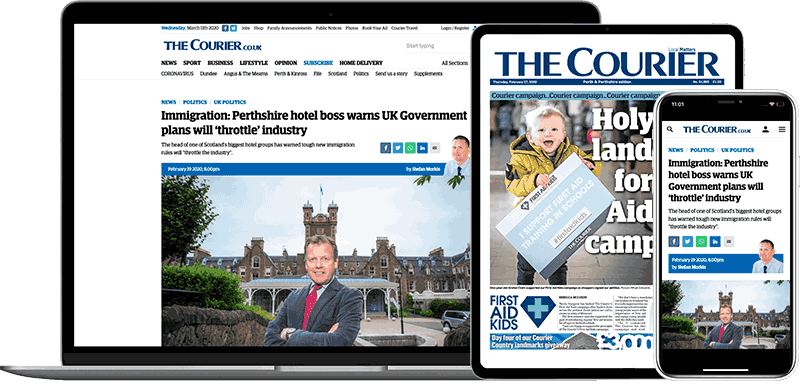 Help support quality local journalism … become a digital subscriber to The Courier
For as little as £5.99 a month you can access all of our content, including Premium articles.
Subscribe