 Sir, – Richard Lucas (letters, March 23) deserves to be challenged not because he is having a pop at the Scottish Government but because he is advocating adoption of the old grammar school system of education.
As an 11-year-old in 1945 I gained entrance to Morgan Academy via a bursary achieved by high marks in the then 11+ entrance exam.
The school also had a fee paying primary department that acted as a feeder to the upper school.
Presumably entry to the proposed grammar school system would require a similar selection process to ensure only those with the required intelligence level gained acceptance.
He makes a fair point by suggesting there is a genetic influence on intelligence but falls down miserably by claiming academic excellence and intelligence tend to be greater among those from wealthier backgrounds.
I had an uncle who, by his own admission, was not the most academically gifted but he did have a natural aptitude for business and he treated his wife and eight children to a very comfortable existence.
Morgan Academy had a streaming process allocating first-year secondary pupils into classes A to D in keeping with the marks gained in the 11+.
I was allocated to an A class and classes A,B and C were mainly filled by bursary entrants.
Fee-paying pupils qualifying through the school's primary section were also present in these classes, but had the D class all to themselves.
This example is given not to denigrate fee-paying pupils; however, the first year dux that year was a wee lass who arrived on a bursary from one of the poorer areas of the city.
We should return to a properly funded education system run by the local authority, involving catchment areas to determine the school you attend rather than the depth of your parents' pocket.
It is easy to make any public service appear inadequate by underfunding which is exactly what happened in England under Michael Gove to pave the way for the privatisation of education masquerading as parental choice.
Allan A MacDougall, 37 Forth Park, Bridge of Allan.
Who needs the West End?
Sir , – I just wanted to write to say what a wonderful show Kirriemuir Amateur Operatic Society have put on this week with The Addams Family.
I went to the opening night and was thoroughly entertained from start to finish.
Who needs the West End when you have this amount of talent on your doorstep.
Keep up the great work folks. Can't wait for next year.
Lesley McNeill, Mill of Marcus, Forfar.
Swapping UK for EU is ridiculous
Sir , – The articles by Alex Bell, Alastair Cameron, Jim Gallagher and Gareth McPherson (March 24) show up the independence ambitions of the SNP as not worth a bag of beans.
Apart from a susceptibility to dream, imagined grievance and fantasy, the Scottish people are the canniest in the world and I cannot believe they will fail to recognise the truth of the issues set out in these articles.
My hope for Scotland is that it should be the shining jewel in the crown of the union.
The latest utterance from Nicola Sturgeon is that, in the event of Brexit by the UK Government, an independent Scotland would join the EU.
But a bigger nonsense is, in the quest for "freedom", why should she wish to exchange what Mr Salmond calls the serfdom of Westminster for the much more onerous serfdom of Brussels.
Ranald Noel-Paton, Pitcurran House, Abernethy.
Labour's tax proposals
Sir , – Has Scottish Labour fully thought through what its proposed new property tax would mean (March 23)?
It will almost certainly entail a revaluation of properties with a good deal of uncertainty over who might be winners and losers.
At present those living in the highest property bands can pay no more than three times those who live in the lowest.
We need to know just how less regressive the new tax would be and if it will genuinely reflect ability to pay.
This is where things become complicated, not least because at present those living alone are entitled to a 25% discount whatever band they are in.
The discount applies to water and sewerage charges too those in the lowest bands can save nearly £300 per year, and those in higher ones even more.
I hope it has been better thought out than their income tax increase proposals where they suggested that local authorities could administer a rebate for those in lower income categories.
The public deserve some answers and Labour candidates and activists should have them before they take to the doorsteps and airwaves for the election campaign.
Bob Taylor, 24 Shiel Court, Glenrothes.
The UK's failure within the EU
Sir , – Born to a war widowed mother, just after the Second World War we slept rough and almost starved to death on several occasions, like hundreds of others at that time, roaming the streets in our rags and jutting bones.
After nine years we had a permanent roof over our heads and I attended school for the first time.
So I knew the austerity of the 40s and 50s first hand and found how wonderful the 60s were.
That prosperity started to plunge when we joined the EU.
Dundee, once a hive of industry, started to lose this to rationalisation, a process whereby Dundee firms of long standing were bought up by European firms and closed down and sent to England.
Now our once public power generating industries are European owned.
I cannot understand how this partnership benefits us in any way, and as to it somehow avoiding wars, well, for that we've got Trident.
Leslie Isles Milligan, Myrtlehall Gardens, Dundee.
Tackling the terrorist mind
Sir , – Following the latest atrocities in Brussels, one of the questions being asked is what kind of people could be so cold-hearted and destructive and be willing to give up their own lives in the process?
It's important to recognise that terrorism is created it's not human nature.
Suicide bombers are made they are not born.
Ultimately, terrorism is the product of madmen bent on destruction, and these madmen are typically the result of psychiatric or psychological techniques aimed at mind and behavioural control.
Suicide bombers are not rational they are weak and pliant
individuals psychologically indoctrinated to murder innocent people without compassion, with no concern for the value of their own lives.
They are manufactured assassins.
Part of the process involves the use of mind-altering psychiatric drugs.
It has been reported that psychiatric drugs were used to brainwash young men in Iraq to create suicide bombers.
Terrorists are also created by psychological methods that destroy individualism, moral judgment and personal responsibility.
This gives an understanding of why a person would do something so destructive.
Publicly exposing this destructive source behind terrorism provides insight and solutions to an otherwise incomprehensible and devastating phenomenon.
Brian Daniels, Citizens Commission on Human Rights (UK), East Grinstead
Fundraising thank-you
Sir , – May I, through your publication, publicly thank all those who came to my non-surprise 70th birthday bash on Saturday 12th March (it can't be a surprise when you organise it yourself!) but also to anyone who, for medical reasons, was unable to attend and still sent donations for Chest Heart and Stroke Scotland in lieu of presents.
The event raised £750.20. The total raised excelled my wildest dreams. I cannot say thank you enough.
At present charities such as Chest Heart and Stroke Scotland along with similar health charities can claim 25% of gift aid donations by UK tax paying donors, but from this "caring UK Government" recent rumours hint that such funding is to be discontinued. At a stroke, if you'll excuse the pun, such valuable funding will stop.
I for one sincerely hope it remains a rumour, and not become a fact.
Time will tell!
At this juncture to return to the fund-raising, I wish to publicly thank the following: the girls (Sandra and Janine) at Crieff Chest Heart and Stroke shop for permitting me the use of their logo on my invitation cards.
The committee of Crieff Bowling Club for the use of clubrooms, Gaza for music/disco. Davie Spiers and Tam Smith for the buffet, Fionna for my birthday cake, and to all who attended.
Thank you all.
Raymond Keay, 18 Millar Street, Crieff
Windfarm the size of Fife needed
Sir,- Further to John Shiels' letter (March 24). Holyrood's preference has always been to replace fossil fuels with windfarms.
It is clear, however, that the politicians and wind energy advocates have not considered the ramifications of replacing Longannet's 2.4GW of generation capacity.
I found that the numbers run as follows:
Windfarms generate an average of around 30% of capacity over a year.
Longannet rarely ran at full capacity and was more typically run at 50-60% over the last several years.
It is clear therefore that we need at least twice the capacity of Longannet 4.8GW to replace it with wind.
US Wind Energy Association figures point out that due to spacing requirements wind generation capacity is limited to ca 10MW per square mile.
We therefore require 480 sq miles of windfarm to replace Longannet.
The land area of Fife is 487 sq miles.
In sum, then, to replace Longannet we need a windfarm the size of Fife at least.
Surely this merits serious journalistic investigation?
Has anyone at Holyrood actually run the numbers?
Does anyone care?
Alan G Melville, 23 Shaw's Street, Edinburgh.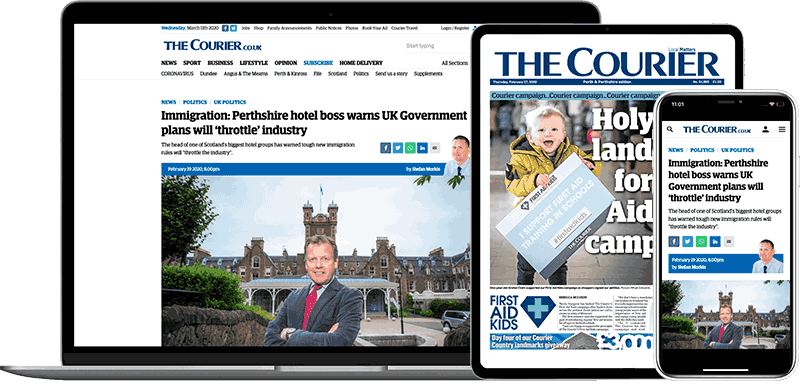 Help support quality local journalism … become a digital subscriber to The Courier
For as little as £5.99 a month you can access all of our content, including Premium articles.
Subscribe