 Sir, – I feel it is wrong for parents of Dundee pupils to be accused of complicity, albeit unwittingly, in the failure of many schools in Dundee to deliver an acceptable standard of education (August 27).
Parents are doing exactly what they feel is in the best interests of their children and as SNP councillor and education convener Stewart Hunter says, they have every right to do so.
If schools record stagnant exam results, poor discipline and low morale, I fail to understand why Mr Hunter thinks they can still be considered good schools with children "struggling to secure educations capable of offering them genuine prospects for working lives outside the classroom".
This SNP Government's record on education can only be described as abysmal. After eight years in power and with 4,000 fewer teachers available for our children to be taught by, it is hardly surprising that we are facing an educational Armageddon in Scotland.
Mr Hunter assures us that every school in the city is a good school and that he would be happy to send his children to any of them.
That being the case, perhaps Mr Hunter and those of his SNP colleagues who have school-age children, should lead by example and send them to an allegedly poorly performing city school that according to reports has unwarranted "negative perceptions" about the education they deliver.
It would be interesting to see how many parents follow his example.
Iain G Richmond. Guildy House, Monikie.
Scottish TV already excellent
Sir, – The First Minister thinks the BBC should become "more federal" but the SNP hates the idea of federalism. They want, nay, demand independence.
Scotland already has independent radio and independent TV, neither of which are in the same class as the BBC, a supra-professional, internationally-respected broadcaster and, in my book, the best in the world.
STV also announced its profits last week, a few million pounds. Gone are the days when Roy Thomson boasted that STV was like printing your own money.
The world-class BBC, on the other hand, costs each licence payer less than £3 a week for half a dozen or more quality radio stations, five TV stations plus News 24, the most admired news outlet in the world.
I hope Ms Sturgeon does not have STV in mind as her national broadcaster.
There's virtually nothing on after midnight. Most of its programming is bought in and the two-minute slot for Dundee news is an insult.
And it is always louder than what has been switched from Aberdeen, if they remember to switch it.
It would be fairly easy to launch a BBC TV station for Scotland, but who would pay, and don't we already have a BBC station for Scotland?
It is called BBC Scotland. Sure there could be much more Scottish content, but I fear most folks would be going cable to make sure they got the programming we currently get from Broadcasting House.
Television in Scotland is excellent. Well, we invented it.
K J MacDougall. 3 Logie Avenue, Dundee.
Save BBC from politicians
Sir, – When Nicola Sturgeon says she wants "wider and richer" BBC content, what she means is narrow, non-UK content giving plenty of airtime to her party's constitutional views.
Her political intention is so transparent it's risible. She wants us to be increasingly cut off from what is going on in the rest of the UK.
The less we feel integrated at the second independence referendum, the greater she feels her chances of success next time around.
The BBC, under all circumstances, must be protected from the SNP's divisive influence.
Martin Redfern. 4 Royal Circus, Edinburgh.
People trust SNP to govern
Sir, – What depressing reading last Wednesday's letter page was. The usual Tory suspects, led by Derek Farmer and Dr Cameron, blamed the SNP Scottish Government for all the ills of Scotland.
We had a referendum on independence last September and the people said no. We had a General Election in May when all but three of the Scottish seats were won by the SNP.
The Scottish people don't want the Tories, a blatantly obvious fact that Derek Farmer and the rest consistently refuse to acknowledge.
I know people who voted no in the referendum but who voted SNP in the General Election.
They obviously trust the SNP to run Scotland more than anybody else.
What the general election showed was that the Scots want change, something the Tories are scared of.
No doubt Derek Farmer and John Cameron would have opposed the voting reform bills of 1832 and 1867 had they been living then. But they can take heart. If the Tory Government continues the way it is going we will all be back living in the 19th Century.
I thought Margaret Thatcher was bad but this lot are even worse; they appear to be making war on the poor. I can't wait for Ian Duncan Smith's next bill making poverty a crime.
Jim Robertson. 194 High Street, Montrose.
So bitter together
Sir, -What a pity for Ms Mona Clark's letter last Wednesday among all the other usual suspects.
It would have been a clean sweep for all the non-Dundonian residents' continued diatribes against Alex Salmond, Nicola Sturgeon, Scotland and the SNP on your letters pages.
They certainly are bitter together.
Calum Duncan. 16 Burn Street, Dundee.
Accept defeat and move on
Sir, – Oh dear, the politics of the playground are back. In his latest diatribe David Roche (August 27) suggests that anyone holding an opinion other than his is secretly abetting a takeover of Scotland's assets.
Divine right to rule Scotland? Dead since the days of Charles I.
Revolution? A welcome in the increase of involvement in politics but revolution? I hardly think so.
The will of the Scottish people? Last year's result saw the will of the Scottish people firmly reject independence.
Mr Roche ignores the antics of yes hotheads in front of Pacific Quay and other places which shamed Scotland and his repeated use of "hatred" and "hate" is disturbing since often nationalism is accompanied sadly by its ugly sister xenophobia.
To "hate" ordinary people who decided that the yes policies were fatally flawed is to demonise them.
Maybe the adjective "rabid" is more fittingly applied to Mr Roche than to them. Perhaps the interests of Scotland would be better served if people like Mr Roche would just accept that they lost last year, grew up and got over it.
Kenn McLeod. 70 Ralston Drive, Kirkcaldy.
Politicians won't admit errors
Sir, – The resignation of Sir Stephen House last week will no doubt be pleasing news to many but the basic policing problems were created by the forming of the national police service, which was carried out in great haste by the politicians.
There have certainly been many causes for justified criticism but how can one person be held responsible 24 hours a day for any errors that occur anywhere between Wick and Stranraer?
Perhaps this is the time when consideration should be given to the forming of perhaps three manageable forces within Scotland which would be efficient and accountable.
However, this is unlikely to happen as politicians will rarely, if ever, admit they made an error of judgment, but the same can be said about many others.
John McDonald. 14 Rosebery Court, Kirkcaldy.
History may be kind to chief
Sir, – Sir Stephen House, the public school and Aberdeen University alumnus with the film-star looks, oversaw the amalgamation of our eight forces into Police Scotland.
As a highly successful chief constable of Strathclyde where violent crime was halved under his stewardship, he was the natural choice to lead the new force though it was clearly a poisoned chalice.
In tribal Scotland, more polarised than at any time since the 1745 Rebellion, Sir Stephen was bound to be accused of Strathclyde-isation and given no time to bed-in a controversial operation.
I suspect history will be kinder to Sir Stephen than many of today's commentators and I will miss this very model of a modern British police officer addressing rebellious Scots in Estuary English.
Rev Dr John Cameron. 10 Howard Place, St Andrews.
Energy crisis incredible
Sir, – It is incredible that any government should be unable to guarantee an electricity supply and to engender the debate so evident in your columns.
The Scottish so-called government is not a government.
It is an executive and was renamed to satisfy the psychological needs of Alex Salmond.
Malcolm Parkin. Gamekeepers Road, Kinnesswood.
World needs compassion
Sir, – Now that capitalism and communism have been found wanting in maintaining stability in the global financial markets, could governments adopt a new philosophy, compassion-ism?
The British Government could take the lead.
As well as bringing stability to the financial markets, compassionism would also offer some answers to the current migrant crisis.
Grahame Lockhart. Myrtle Cottage, 15 Scott Street, Brechin.
Is there case for Polish signs?
Sir, – There are as many, if not more, speakers of Polish in Scotland than of Gaelic. Should we not have Polish on road signs as well?
John Dorward. 89 Brechin Road, Arbroath.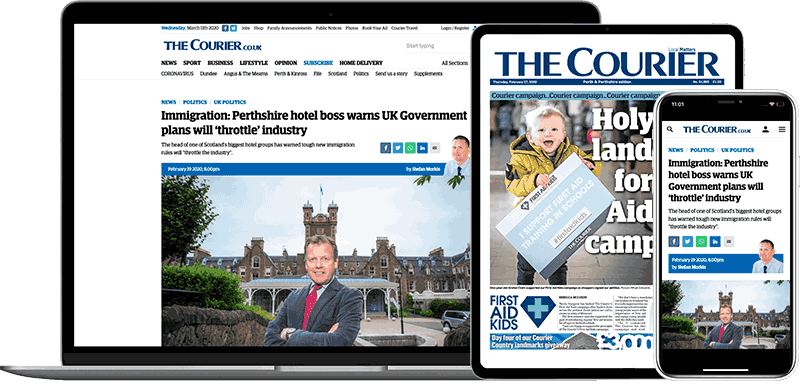 Help support quality local journalism … become a digital subscriber to The Courier
For as little as £5.99 a month you can access all of our content, including Premium articles.
Subscribe