 Sir, The Nordic countries have recently come to the fore in the independence debate.
The enviable record of prosperity and equality they share with the Alpine and Low countries has become a beacon for those espousing Scottish independence while, predictably, those who oppose it seek to tarnish that record with a selective concentration on income tax rates.
While many in the "no" campaign hope that shallow scare story will be enough to neutralise the Nordic influence on the debate, others on the left are not convinced.
They see the threat it poses to their assertion that Scotland thrives under the union. So they offer a different argument and claim the surest way for Scots to emulate the Nordic success is to put their faith in the strength of the UK and its ability to deliver it.
However, there is a flaw in that assertion. If true, should Scotland not already be there?
It's not as if the union is a new construct that needs time to bed in. It has had many years to deliver prosperity and equality for Scotland.
Instead, despite the union and an oil boom, Scotland lags far behind its small, independent neighbours.
Indeed, this latest assertion from the "no" campaign merely highlights the failings of the union.
Stuart Allan. Flat E, 8 Nelson Street, Dundee.
Brits need to buck up their ideas a bit
Sir, Up until last week I had been very concerned about the number of immigrants being offered work in this country when so many British people like myself are unemployed.
However, I had a major building job to be done in my house last week and I felt very frustrated at the length of time it took and this was mainly because the builders arrived late in the morning, then took a tea break for an hour, had lunch for another 90 minutes and then an hour's tea break in the afternoon. They also finished early.
I do not think British people, particularly in the building trade help themselves gain employment by building this sort of reputation.
A friend of mine was having building work done by a group of Polish workers. Although they spoke little English they arrived on time, took very little time off and stayed later.
Is there a difference in the work ethic of British builders and their European counterparts? If this is the case then maybe the migrants deserve the work?
Gordon Kennedy. 117 Simpson Square, Perth.
It just doesn't add up at all
Sir A card was inserted into my copy of The Courier at the weekend that claimed my energy bills would fall if Scotland became a new state.
As usual, this huge claim doesn't specify how that "lower cost of living" would be paid for.
Right now, Scotland receives much more energy subsidy than the rest of the UK. Last year, Scotland got almost five times the subsidy for renewable energy than the rest of the UK.
The cost of some of those renewable devices is enormous. It's an expensive policy. It can only be afforded because the UK pays it all.
For myself, my renewable subsidy is thirty-eight times the regular price for your domestic electricity. That's £6 a kilowatt paid to me, compared with the 15.5 pence many readers pay for electricity right now.
With a new Scottish Government taking on all the subsidies paid for our renewables, how on earth could that same government afford these very high costs, AND cut our current bills?
It just doesn't add up.
Andrew Dundas. 34 Ross Avenue, Perth.
Completely bonkers?
Sir, I cannot be the only reader who, having read Tuesday's excellent contribution to your enquiry into fuel poverty, Bishop Nigel Peyton's article about much the same thing and your article into just how poorly Dundee's economy is performing, to read that Justine Greening proudly announced we are tripling Britain's overseas economic aid to £1.8 billion.
Has the government, having lost the plot some time ago, gone completely bonkers? Can one get a job lot of straitjackets?
Robert Lightband. Clepington Court, Dundee.
School run gases worse
Sir, The article in Monday's Courier regarding levels of air pollution in our towns and cities should give us all cause for concern, but I would like to see air samples taken outside our schools when the school run is on.
Most of the vehicles used to ferry children to school do very short journeys and the vehicles do not reach operating temperature which means the engines spew out even more poisonous gases.
Children and adults have to walk through this daily. It can't be good for their health.
Bob Duncan. 110 Caesar Avenue, Carnoustie.
It's obscene
Sir, At last someone is highlighting the cost the royal family inflicts on the British taxpayer. The money lavished out on them is obscene while people are having benefits cut and some are having to choose whether they have food or heat.
Alister Rankin. 93 Whyterose Terrace, Methil, Leven.
Protecting the wealthy
Sir, The condemnation of Ed Balls' limited and modest proposal to raise the income tax threshold back to 50p for those earning more than £150k has come exclusively from the financial aristocracy.
This same group of bankers and speculators (who caused the 2008 crash) have successfully lobbied against any regulation to stop a repeat. Instead the solution to the deficit has been a brutal and inhuman series of cuts to the living standards of working people under the guise of austerity.
The UK Government is currently fighting the EU in court to stop legislation which would cap banker bonuses at 100% of their salaries.
The reason the Chancellor gave when he reduced the top rate of tax from 50p to 45p was because it only raised revenue of £1 billion per year. This is half of what the bedroom tax is saving the government.
The Tories don't care about working people, they are only interested protecting the lifestyles of the obscenely wealthy.
Alan Hinnrichs. 2 Gillespie Terrace, Dundee.
No doctors will be involved
Sir, As a humanist, I read the article "Staying in control until the last minute" (Courier, January 24), with interest. I am very glad that Dr Buist of Blairgowrie tries to talk his patients out of wanting his help in assisted dying.
We, the very few, fewer than two per week out of Scots who die per week, who may want help to die should never ever seek help from a doctor. So, concern for professional medical principles is not necessary.
Here in Dundee, a local humanist has developed SCOOP, a scheme whereby far-sighted adult Scots who wish to die stress-free and with dignity, may register this wish officially and when the moment comes as come it must for all of us they will qualify for the help of a compassionate registered facilitator who will supervise their demise in a dignified stress-free manner without any NHS involvement whatsoever.
Once SCOOP is legalised this controversy will be resolved and laid to rest forever.
Jean Clark. Temperance House, Brechin.
They need to be alert as well…
Sir, In response to M Clunie, "Need to alert pedestrians" (Letters, January 25), I would ask: "when will pedestrians become more alert to what is going on around them?"
I cannot speak for cyclists, but most pedestrian mobility scooter drivers are very aware of their responsibilities towards pedestrians. However, they find that their vigilance is not reciprocated.
Too many people wander around with their attention distracted by headphones, mobile phones etc, and seem completely unaware of prams , mobility scooters or others less able than themselves.
Mobility scooters do have a beeper but people jump out of their skins and are none too pleased if they are used, so I find it better to quietly wait my turn, put an arm out to prevent someone inadvertently backing into me and warn them I am there if possible.
More often than not there is an exchange of apologies and people are very kind and helpful.
Mrs M Dumbreck. Mossgiel, Dysart.
Gagging law danger
Sir, I would like to thank Lindsay Roy, the Labour MP for Glenrothes for supporting the House of Lords' positive amendments to the Gagging Law.
Whilst the overall vote was lost, Lindsay stood up for democracy.
The gagging law introduces new rules that would prevent non-politicians from speaking on the big issues of the day.
Many charities and campaign groups have spoken out against it. Despite how vocal civil society has been about the issues with this law, the government are trying to rush it through without proper scrutiny.
Groups that normally would not agree, have been united in speaking out against this law.
Politics is too important to leave to political parties, and in a healthy democracy everyone should be able to express their views.
Katrina Allan. 23 The Henge, Glenrothes.
Why were they allowed?
Sir, It is not only Asda's sign which offends (Letters, January 21). Aldi in St Andrews has two massive signs, quite unnecessarily. How both were permitted by the council planners is beyond me. Let us hope Cupar's Aldi is more restrained.
John Birkett. 12 Horseleys Park, St Andrews.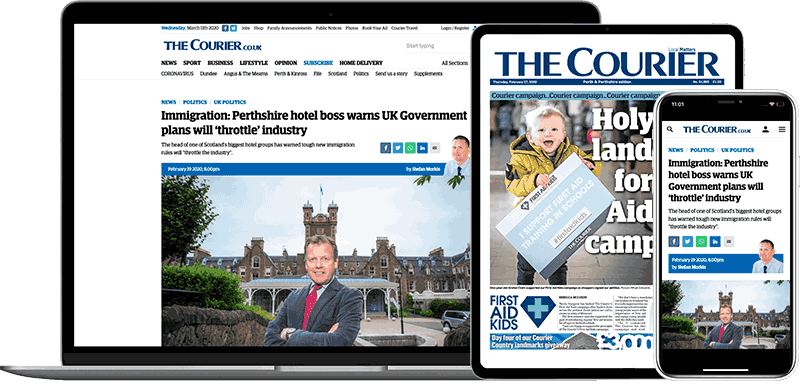 Help support quality local journalism … become a digital subscriber to The Courier
For as little as £5.99 a month you can access all of our content, including Premium articles.
Subscribe