 Sir, Rev David Robertson (Letters, March 4) appears to claim that Christian education is the sole way for children to think for themselves. His repeated use of "indoctrination" and " propaganda" by Humanists are surely charges common to the major Christian churches and also the lesser-known international faiths.
The vast majority of Humanists are not anti-religious but have decided that an imposed belief in a god-like entity does not equate with their choice of life.
They live in the belief that every person must decide what is right morally and ethically while respecting the sincere beliefs of others.
New Humanist magazine asked readers to describe humanism in fewer than 50 words.
The answers are very interesting as not one letter condemned Christianity but stated simply it was not within their lifestyle.
The rising numbers of non-attendance at church services and falling numbers of church weddings certainly emphasise that view.
One writer's definition of Humanism was: "Respect for all others regardless of sex and race. Toleration and acceptance of different viewpoints regardless of personal opinions of such. Rejection of religious indoctrination and promulgation of a rational alternative."
There are many world-wide powerful sources of religious indoctrination and comparatively few for Humanism.
I agree with the Rev Robertson that children should be encouraged to think for themselves, but wonder if he would be as tolerant if his children chose to become Humanists.
Angus Brown. The Orchard, Longforgan.
Not much free thought there
Sir, The claim from the Reverend David Robertson (Letters, March 4) thatChristian education has encouraged children to think for themselves amused me.
I recall the reverend writing to Alex Salmond in 2008 demanding Calvinist state schools based on biblicalprinciples in an independent Scotland. That certainly sounds like an environment in which children would be preached at, but not with the gospel of free thought!
Regarding the leaflet distributed by the Scripture Union in schools, to which the reverend refers, this group provides other resource materials which state that homosexuality is a "contentious moral issue". It is not, but for as long as children are told this then it is inevitable that prejudice, discrimination and bullying of gay children and adults will be with us.
Given this description and what the Bible says about homosexuality, it is astonishing that the Scripture Union can access schools to advise children struggling with their sexuality to pray if they are being bullied.
Should the god to whom they are praying deign to answer them, could David Robertson tell us what that answer would be?
Alistair McBay. National Secular Society, 5 Atholl Crescent, Edinburgh.
Good common sense approach
Sir, I am in full agreement with Nigel Farage's suggestions that Britain needs a points-based immigration system similar to Australia's.
A closer look at the Australian guidelines for entry reveals something that is clearly lacking in Britain. It states that: "Entering or remaining in Australia is a privilege, and it is expected that non-citizens are, and have been, law-abiding. Visa holders must also continue to satisfy the character requirement."
In the last year we have seen far too many examples of people being allowed entry to Britain without proper checks being done on their criminal past and they have ended up committing violent crimes, this is unacceptable and desperately needs to be addressed.
Too many people coming to Britain from the EU see coming to Britain as a right, it needs to be seen more as a privilege. Well done Nigel Farage for listening to the British people and your common sense approach to this key election issue.
Gordon Kennedy. 117 Simpson Square, Perth.
Why no outcry about this?
Sir, I refer to the letter from George Hayton, Kinross, published Thursday March 5.
I totally agree with everything he said.
I am deeply concerned about this proposed database which, will share my private details and everyone else's without consent to other bodies.
I do not know why there is not a public outcry about this and why it is not on the front pages of the newspapers.
Surely sharing the NHS Scotland information without permission from the patients is in breach of Data Protection law. I have written to my MSP and the First Minister and I am awaiting their response.
P Standen. 40 Brodick Road, Kirkcaldy.
Deserve better than this . . .
Sir, How long can we expect to endure Mike Scott-Hayward's tirades of personal abuse directed at the leaders of the SNP (Letters, March 6)?
Does he really imagine that by doing this he is advancing his cause in some way? One would have thought that a brief glance at poll figures would have disabused him of this, but still he continues.
He does himself and the political party he supports, no credit by behaving like this. With such serious issues to be decided in the forthcoming election, we deserve better.
George White. 2 Cupar Road, Auchtermuchty.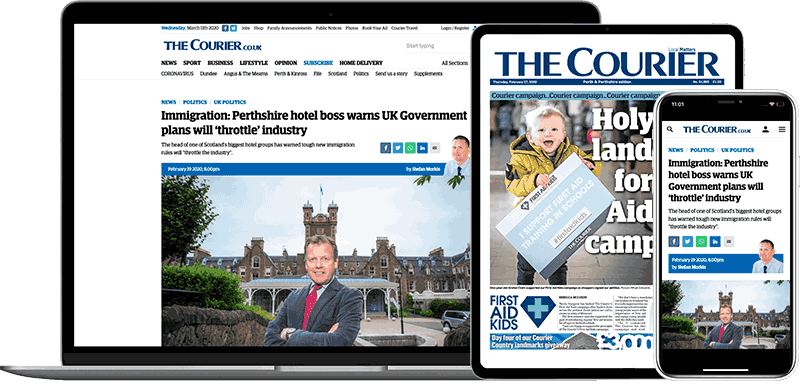 Help support quality local journalism … become a digital subscriber to The Courier
For as little as £5.99 a month you can access all of our content, including Premium articles.
Subscribe