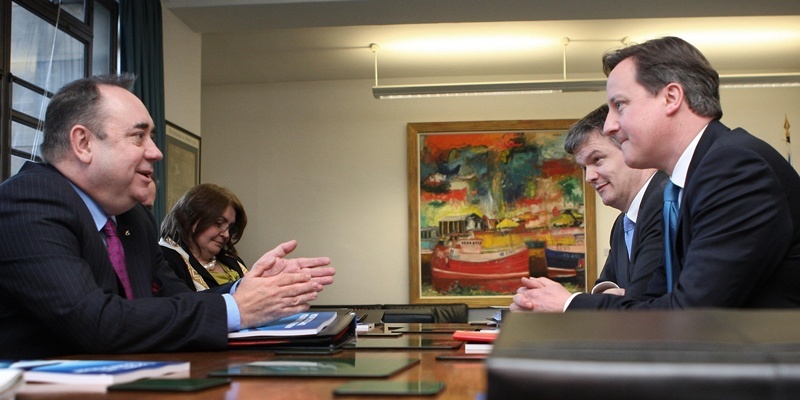 David Cameron has been challenged to "spell out" what extra powers Scotland could receive as an alternative to independence.
The Prime Minister faced calls to clarify his position after he used a speech in Edinburgh on Thursday to pledge further devolution is "on the table" if Scots vote to remain in the United Kingdom.
The significant development, which marked a shift in Tory policy, would give voters the option of constitutional change without the need to end the 300-year Union.
But Mr Cameron would not be drawn on the details of the increased settlement for the Scottish Parliament, insisting that was a matter for after the independence question has been settled.
Instead he repeated calls for Alex Salmond to bring forward the date of the crunch referendum planned for autumn 2014 and insisted only one question should appear on the ballot paper.
"This doesn't have to be the end of the road," said the Prime Minister, who had visited the Quaker Oats factory in Cupar earlier in the day. "When the referendum on independence is over, I am open to looking at how the devolved settlement can be improved. And yes, that means considering what further powers could be devolved.
"But that must be a question for after the referendum, when Scotland has made its choice about the fundamental question of independence or the United Kingdom," he added.
The comments were immediately dismissed by Mr Salmond, the First Minister, who demanded more detail and asked: "Where's the beef?"
He added: "If the Prime Minister has an offer to make to the people of Scotland he should make it now, he should spell it out now."
Speaking after meeting Mr Cameron to discuss the referendum plans at Scottish Government headquarters, Mr Salmond said the public needed to know what extra powers were available.
"The Prime Minister is now saying for the first time that another option is now on the table," he said. "What I said to the Prime Minister in the discussions is … we now have to know what it will be."
The First Minister spoke of the run-up to the 1979 devolution referendum, when Sir Alec Douglas-Home promised a Tory government would introduce a better Scottish Assembly.
He said: "Scotland, I don't believe, will be fooled twice."
However, Mr Cameron pointed out his Coalition Government had already delivered more devolution to Holyrood through the Scotland Bill.
"I will stand on my record," he said. "The decentralisation of power is one of the core aims of the Coalition Government."
Meanwhile, Scotland Secretary Michael Moore a Liberal Democrat MP said his party are "under way" with deciding what new powers for the Scottish Parliament could be.
"The alternative is not the status quo, it's actually about deciding what other powers Scotland should have within the UK," he said.
Photo by David Cheskin/PA Wire