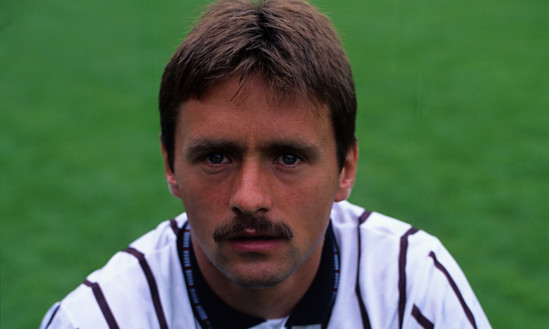 Dunfermline Athletic last night unveiled a series of initiatives that will help the club honour former captain Norrie McCathie in January.
January 8 will be exactly 20 years to the day that McCathie, affectionately known as 'Mr Dunfermline' by Pars fans, passed away from carbon monoxide poisoning, and the club's board has decided to commemorate the anniversary in various ways.
The Pars have commissioned a one-off commemorative strip for the New Year derby with Cowdenbeath at East End Park, replicating the last strip McCathie ever wore for the club in 1996 at Love Street, and the iconic blue and red quarter strip will bear the number four on the back, which of course was McCathie's number.
That game on January 2 will be especially poignant, as Cowdenbeath are the only other senior football club that McCathie signed for as a professional player with the Blue Brazil also planning their own tribute.
Ross McArthur, Dunfermline managing director, said: "It is hoped that all Pars supporters will join together and participate in the various 'We did it for Norrie' initiatives we have planned to celebrate his life.
"As our former chairman Roy Woodrow said at Norrie's remembrance service, the spirit which he had will live with us for a very long time to come.
"Without question, his spirit lives on at DAFC, and to me all of the qualities that Norrie epitomised are still evident at our reborn community club today.
"I remember only too well, that after Norrie's tragic death, our club vowed to win the old First Division Championship for him in 1996, which we managed to do by all pulling together, particularly up at Tannadice. Ever since that time, the expression 'We did it for Norrie' is held dearly by Pars fans, in his memory."
There will also be a one-off commemorative match-day programme, while all of the Pars' programmes for the second half of the season will include a feature on McCathie.
An exhibition at East End Park is also being planned, as is a special tribute night at the Carnegie Hall in Dunfermline on Friday January 15.
Fans can also share their memories of McCathie on social media, using the hashtag #SPIRIT.