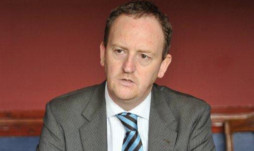 DUNDEE CHIEF Executive Scot Gardiner has delivered an impassioned plea for Scottish football to grasp a once-in-a-lifetime opportunity to see radical change in the game in this country.
The Dark Blues chief was one of the architects behind a raft of proposals that were presented at a meeting between top clubs at Hampden last week.
They include a new 12-12-18 league set-up, a merger of the SPL and SFL as well as a major redistribution of wealth throughout the game in this country, with the top-tier clubs making major financial concessions.
Gardiner was unwilling to provide the fine details of the monies each club would receive if the plans are implemented as all SFL clubs have not yet received their drafts, but he could confirm that the moves could secure the immediate futures of several teams.
The governing bodies have agreed in principle to the blueprint with the clubs set to vote on the details before the end of this month with a view to implementing them as early as next season.
Gardiner firmly believes that the proposals, which also include league play-offs with big financial awards for successful teams, will bring some much-needed excitement as well as stability.
However, cracks have already appeared in the consensus for change with critics saying that the moves are being rushed through, as well as alternative league structures being suggested, with Rangers chief executive Charles Green throwing his weight behind a 14-14-14 league set-up.
Gardiner, though, has been involved since the earliest stages of the proposed radical reformation and while he admits no plan is perfect, there are major reasons for believing that this is the way forward for Scottish football.
He insists that if the moves are delayed, then the current consensus could be shattered and the opportunity lost.
He said: "The steering group has been away trying to negotiate and come up with the best possible solution.
"That has been what all the meetings at Hampden have been about. We have tried very hard to come up with a solution for what would be best for the Scottish game.
"You can pick holes in it but we could sit and do that with any model.
"I hope it can be seen that we have genuinely tried to bring everyone to the party and improve everybody.
"Dundee FC believe that this is the best model and we will be having a meeting with our fans before we travel to Hampden on the 28th of this month.
"However, at the end of the 28th we are hoping that there is an indication from the 12 SPL clubs and the SFL clubs that we want to try to take this forward for the good of the game. If they don't, the status quo will remain as far as I can see. If that happens, then I am really fearful.
"I don't want to go down that whole Armageddon thing but at the moment clubs are living from season to season. You do not have the opportunity to have any stability.
"You are either in the quicksand or you are up chasing the dream. There has to be a middle ground where you can create stability, where you have staff who know what they will be working on and players who can sign longer contracts.
"As far as I'm concerned, Scottish football is not in a good place right now and if we keep the status quo then I don't like where it is going.
He said: "I think if we don't change it now and wait a year the plans will fall apart.
"Overdrafts will go up, requirement will go up and teams in the SPL who are now saying we will give up X,Y or Z might not be so happy to do that.
"In my opinion, if we don't start next season, then it will fall apart. I think this is a seminal moment."
Gardiner will shortly present the plans to the Dundee fans and he is hoping that other clubs will now provide their supporters with the fine details in a bid to have everyone singing from the same hymn sheet.
He added: "I would hope that the clubs can now go out and give the fans all the detail they need. Each club has to sell it to their own fans but I don't think it is the same as the summer and we have to have the chance to say here's the reason.
"Right now it is just a working document and at the end of January there will be an indication of whether this is the way forward.
"It's not all things to all men and you can pick holes but I think this is the right model.
"The game is so polarized just now it's painful. We need to get some sort of consensus and try to move the game forward together. I'm passionate as I am fearful about the way we are heading. I have worked hard on this and I would not take it as a personal insult if it was kicked out but I think it would be a huge mistake.
"I would hope that people do not become hung up on the numbers in the divisions, it is all about governance and the redistribution which is crucial for the game going forward."
nrobertson@thecourier.co.uk