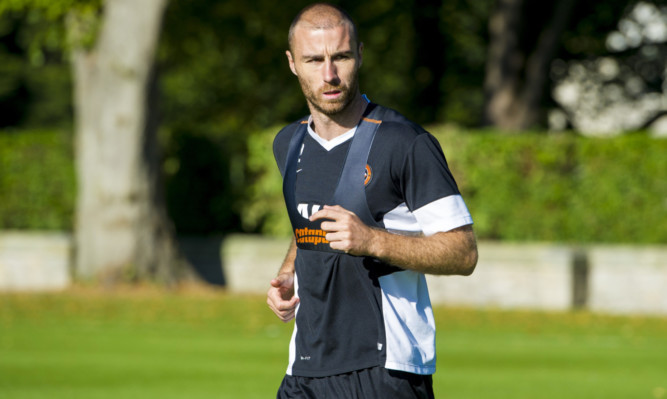 Captain Sean Dillon insists Dundee United manager Mixu Paatelainen was correct to call their Parkhead performance "Rubbish with a capital R."
It will take some beating for quote of the season but Dillon feels Paatelainen's devastating description of his team's 5-0 capitulation to Celtic on Sunday was absolutely spot-on.
The Irishman claimed that the players deserved all they got from the fuming Finn.
Dillon said: "I can't argue with what the manager said because he was right.
"We had a chat after the game.
"He obviously wasn't happy at half-time and he still wasn't when the game was finished.
"We were made aware of how unhappy he was but, look, we (the players) are not happy either.
"We did basic stuff wrong.
"We had a certain plan coming into the game but the goals we conceded were basic goals.
"If you look at every single one of them, they are basic.
"I am sure Celtic will be happy with them.
"They will say they are good goals but, from our point of view, they were poor goals to concede.
"After working on a lot of stuff since the manager came in, it is very, very disappointing and frustrating to concede goals like that.
"The basic stuff needs to be right.
"That is something the gaffer has been pushing on us since he came in.
"OK, it has only been 10 days or so but he is very determined to put it right.
"Whoever is in the team has to make sure they are putting it right to make him happy. That's what we are desperate to do."
Paatelainen, in his memorable, no-holds-barred post-match analysis at Celtic Park, claimed that rescue from relegation will involve taking "small steps" and that it will be a long autumn and winter for the club.
Asked if an upturn in fortune has to come as quickly as possible given they are already five points adrift at the bottom of the Premiership, Dillon said: "It has to change soon.
"What the gaffer says is right because he is looking at having to work on a lot of stuff.
"You can't argue with that but we know that we need results.
"The immediate future for us involves working really hard on a lot of different things – mainly the basics and trying to put that right.
"I do believe that if we do that then we will be all right but it is going to be hard."
Dillon is the most experienced player in a United squad that is demographically unbalanced, given the amount of key areas currently filled by inexperienced players.
At the grand old age of 32, he is the club's senior statesman as well as skipper.
He would not, however, lay the blame at the younger players in the team for failing to realise the seriousness of the team's situation or not being physically tough enough for a relegation fight.
Dillon said: "Everybody is going to have an opinion but I personally wouldn't go down the road of pushing things away from me and a couple of the older boys to say we are doing all right and the young lads aren't.
"I don't think that's fair.
"We are all in it together.
"I think it can be an easy get-out sometimes to say we have good, technical players but not much fight in them and stuff.
"I wouldn't totally agree.
"Like I said, there is a lot of work to be done.
"We are talking about basic stuff here. We are not asking people to do things they can't do.
"Confidence can be an issue and I wouldn't dismiss that altogether because we are bottom of the league with one (league) win this season.
"It's not a great time so I can understand confidence being low.
"Regardless of whether your confidence is high or not, you shouldn't be making basic mistakes."