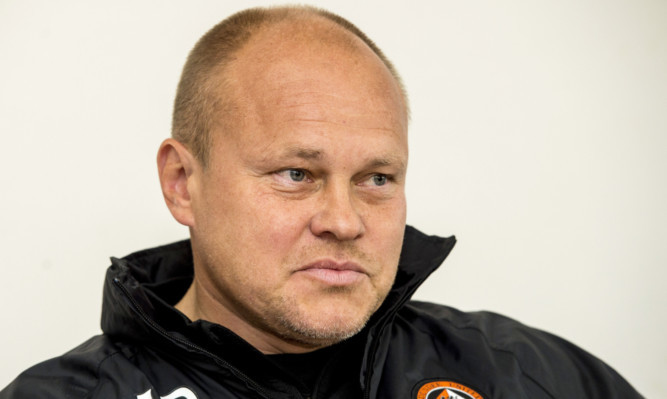 There are plenty of things that can help Dundee United escape from their precarious position, cut adrift from the rest of the Premiership at the bottom of the table.
But self pity isn't one of them.
And Mixu Paatelainen doesn't want to see any signs of it in his squad in the wake of the one-sided thrashing by Celtic.
"Feeling sorry for yourself happens," the United manager admitted. "It's human nature.
"When things go against you as a group of human beings then there's bound to be one or two who feel sorry for themselves.
"You can't stop it but we can't afford to do that.
"There was possibly an acceptance on Sunday and that's not something I like to see.
"I know through experience that when things go as badly as they did at Celtic Park, then some players might go a bit lazy and feel sorry for themselves.
"We don't have time to do that, we don't have room or time for feeling like that.
"We need to bounce back and be strong, then do things better.
"Toughening mentality is a long-term thing.
"Every player has suffered a right good doing like we got on Sunday but you have to learn from it.
"Yes, you are hurt and are licking your wounds, but you have to learn the lesson and take it forward.
"Over time you get tougher and when certain things happen on the pitch but you learn to make it stop happening."
Paatelainen's frustration at the manner of the loss still lingers, but he was keen to stress that it wasn't all bad at Parkhead.
He explained: "One thing I will say is there was also some good things in that game so it's not all doom and gloom.
"Yes, the goals we conceded were very, very bad but I did see some positives."
He added: "We don't tolerate performances like that, I can understand it if you bring in tactics which are absolutely new.
"But we didn't, we didn't do the fundamentals right.
"I was very annoyed with that and I still am.
"The players know it and agree with it, it's important everyone realises what we do right and what we do wrong.
"I didn't identify any individuals, I was critical of the whole squad and didn't highlight people.
"I don't think the players' confidence will suffer, they know themselves when they have done well or not.
"They know they let everyone down, themselves first and foremost, and I felt sorry for the fans watching that.
"We don't want to have a performance like that again, we need to show we are better than that and we will.
"We have to start with the basic things and stop losing easy goals."
The predicament of the first team at present shouldn't cast into doubt United's desire to promote young players through the ranks, according to the Finn.
He said: "I like that philosophy and I think the club has the right policy.
"You have to remember our injury list, it's huge and all experienced players.
"We have leaders missing but that's football and you just have to get on with it.
"Through the course of time we will try to improve the squad, the board have indicated the possibility of doing this.
"We have a big squad so people will need to leave as well, but that's natural at every football club.
"When the transfer window opens the squad changes, that is what happens.
"People are on trial, of course, but that is the nature of a team they need to show they are worth a starting place.
"They have to show everyone they should be in the team, players are always under pressure and they should rise to that challenge.
"There are good players here, we just need to work and make it better.
Paatelainen is hoping to see a reaction from one weekend to the next, but he doesn't believe there's a quick fix.
He pointed out: "It is going to be a long season, there's no question about that, and people shouldn't think things will turn rosy in the short term.
"This is a long battle, we need to grind it out slowly.
"Looking at the teams we play in the next few weeks, every match is going to be very difficult.
"We play Ross County then Aberdeen, with Hibs in there as well all teams doing well with a lot of confidence.
"That's why I've said this will be a tough period for us.
"We'll face these challenges and hopefully improve bit by bit. I know we will.
"It is a big job, I don't know if it's bigger or not bigger.
"It's certainly a tough one.
"We have a big job on our hands, that is all I know, and it won't get too good for a while.
"But we must stay patient and work to keep the confidence as high as possible.
"We have to concentrate solely on working hard and bit by bit the results will get better."