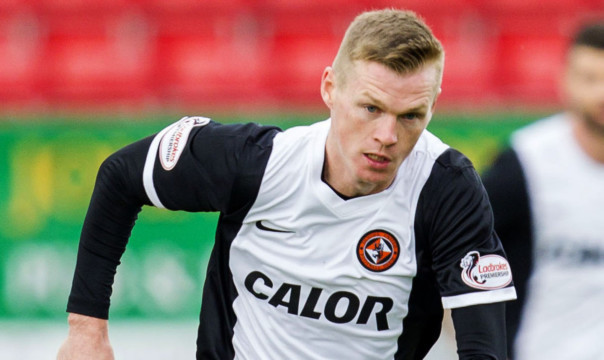 Dunfermline may be playing two divisions below Dundee United but the Tangerines Billy Mckay will be taking nothing for granted when the sides meet in the League Cup tonight at Tannadice.
The striker netted his second goal in successive games against his former side Inverness on Saturday.
However, it wasn't enough to secure United's first home win of the season with Josh Meekings equalising.
On paper, tonight should be the time for United to finally get that monkey off their back but Mckay is aware that his side's quality will only prevail if they match the Pars' endeavour.
The player, who is on a season-long loan from Wigan, said: "I feel we are one result away from going on a good run.
"In the first half against Inverness, we created a few chances and if we had scored them we would have won the game.
"But we didn't and they got the equaliser and we take the point and move on to Dunfermline on Tuesday night.
"We need to make sure we treat the game right and give Dunfermline the respect they deserve.
"They have been in good form and scoring lots of goals so we will need to be at 100 per cent and I'm sure if we are at 100 per cent then we will win.
"Dunfermline beat Dundee in the last round and you can't take any game for granted especially a cup game.
"We know they will be right up for it and we will have to match their desire to reach the next round.
"But if we do that, then our quality will shine through and we will win."
When asked if he felt the League Cup would be a welcome break from the Premiership, Mckay replied: "Yes you could say that. It's a game we look forward to because if you win you are in the quarter finals and it's all to play for.
"Our minds will be on that fully and if we get into the next round then we can turn our minds back to the league.
"And hopefully a win in the cup would help us go on a good run that can help us go up the table."
After making a good start and taking the lead against Inverness on Saturday, United could not maintain their dominance.
However, Mckay insists that was not because the home players had retreated into their shells.
He said: "I think Inverness put us under pressure. They penned us in a little bit and we couldn't play the football we wanted to play.
"But I don't think there's fear there. The lads are all brave enough to get on the ball and try to get a good run going.
"It's just not happening for us at the moment but once we get that win, then hopefully that will change."
Mckay also admitted it is important that the fans remain behind the team.
He added: "We want the fans to stick by us. I think some of the football we have been playing is good, especially in the first half against Inverness on Saturday.
"A win is all we are missing but we are close and when we win we will go on from there."
The striker has a foot injury that he is hoping to recover in time to face the Pars.
Manager Jackie McNamara said: "We will wait and see how Billy is.
"His foot is still a bit tender from the week before and he was feeling it a bit on Saturday.
"With these ones, one kick and it will be sore so it will be a case of whether it's recovered in time for Dunfermline."
Chris Erskine (oseitis pubis) and Paul Dixon (hernia), meanwhile, are both awaiting the go-ahead for surgery.
As for the cup-tie, McNamara added:"The cups are the most realistic chance for us to get silverware and success.
"It's obviously important where we finish up in the league but the cups are a good opportunity for us.
"We got to the final last season and would like to go one step further.
"But we need to overcome Dunfermline first.
"We would never treat the cups lightly."