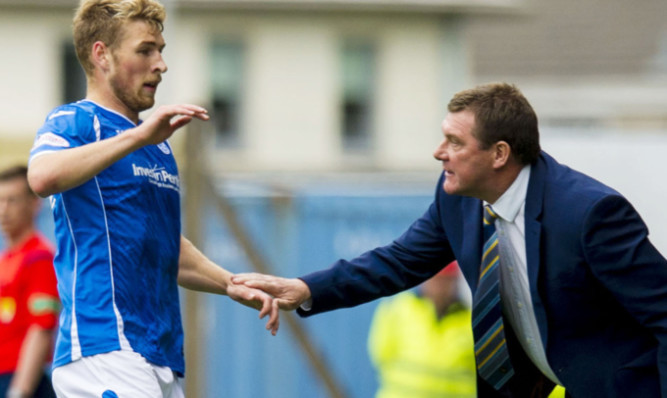 Jackie McNamara would have been sick of the sight of St Johnstone by the time a defeat to the Perth club brought about his sacking at Dundee United.
A Scottish Cup final loss and a one-sided record in their head-to-head in the league over the last few seasons saw to that.
But Saints midfielder David Wotherspoon insisted that history will mean nothing when the next Tayside derby kicks-off on Saturday afternoon, the first against Mixu Paatelainen's Tangerines.
"It's a game that we're looking forward to because we're on a really good run of form and we want to keep it going," he said.
"People might think the past results we've had against them might be a factor, but we look at every game on its merits.
"That's what we'll be doing again this weekend.
"United obviously aren't doing as well this season as they have in previous years.
"We're on a good run and we need to concentrate on doing the things we've been doing right.
"Obviously we want to make an impact on them straight away and set our stall out. We want to get them on the defensive as soon as we can in the game."
Wotherspoon was a Hibs player when new United boss Paatelainen was in charge at Easter Road, but their paths didn't cross on many occasions.
"I was still a youth," the former Scotland under-21 international explained.
"We trained with the first team a few times but I never played for him.
"I do remember that his training as good. He got very involved. The lads really enjoyed it and I can remember Paul Hanlon speaking highly of him.
"Now that he's in charge at Dundee United, they will obviously be a bit different to the last time we faced them."
Wotherspoon was praised by his manager for his contribution off the bench to help beat Kilmarnock in the last match before the international break.
And he admitted the fact that he had been listed as a substitute fired him up when he came on.
"It was a bit of a disappointment for myself to not start last weekend," he said.
"We had won 4-2 against Hamilton the week before. We maybe didn't play our best but it was a really good result so it was disappointing to not be in the team for Kilmarnock.
"That disappointment played on my mind and I wanted to make a difference when I came on.
"I managed to help set-up the second goal, so I was happy I contributed to the win.
"That's the mentality you have to have.
"The manager drums it into us that it's not just about the eleven who start. The players on the bench have to make an impact.
"He makes a big point of saying it's a team effort throughout the season from the coaching staff through to the players. That shows on the park in our performances.
"You get injuries and suspensions. The squad mentality has worked for us in the past and it's working for us again this season."
Wotherspoon, who had been accustomed to life as a first team regular, added: "You want to be starting every game. So when you don't you're always going to be disappointed.
"You just have to get your head down and do your best to get back in the team the next week.
"I've been playing long enough to know that moping around doesn't get you anywhere.
"You need your head screwed on. You're doing it for the team as well as yourself."