 Dundee United midfielder Scott Fraser thought he was heading to the headteacher's office for a ticking-off only to be told he was a star pupil.
Fraser (20) will be one to watch at Tannadice in the new season, with a successful spell on loan at Airdrie last term setting him up for a push into the Tangerines' first team.
He is one of the youngsters that manager Jackie McNamara has insisted "should be ready now" along with the likes of Blair Spittal, Charlie Telfer, Aidan Connolly and Ali Coote.
Supporters can expect to see them all involved when the action begins in earnest.
Fraser is ready to pass that examination but he revealed he thought he was in the bad books when he was summonsed to see McNamara in the closing weeks of last season.
He recalled: "I spent most of last season at Airdrie and thought I did well.
"More importantly, the gaffer here at United thought I did well.
"When I came back to the club I was told that he wanted to see me in his office.
"At first I thought I was in trouble.
"It hadn't happened before so I was a wee bit worried that I had maybe done something wrong.
"As it turned out, I had nothing to worry about because it was all positive from the gaffer.
"We had a wee chat and he told me that he had seen a massive improvement in me after my time at Airdrie.
"That was great to hear.
"He said I had gotten fitter, stronger and that my attitude towards getting the ball back was better.
"The last bit was really important because I have always been a player who wants to get on the ball and try to create chances.
"Now, though, I do understand how important it is to work for the team by going and getting the ball back.
"If he has seen a difference in me then that can only be good news."
Fraser has had to broaden his approach in order to place more emphasis on the less glamorous side of a midfielder's game – working to get the ball back when your team loses it.
He has been one who likes to pass his way to success but now, thanks to McNamara and other members of the Tannadice staff – especially youth coach Stevie Campbell – he knows there is more to it than that.
Indeed, Fraser revealed that Campbell had gone the extra mile to watch him play for the Diamonds in League One.
"When I was growing up here I had Stevie Campbell on my back telling me to work harder and get the ball back," he said.
"He has been important in developing me as a player because even when I was in the under-17s he would bring me in to play a few of the under-19 games.
"Obviously that meant I was doing well if he thought I could step up.
"Then last season he was doing things like going to Peterhead away to watch me play for Airdrie, which was great and something I really appreciated.
"I would then come back in to training at United on the Monday and he would have points to make and always told me what I could have done better in the game.
"He has always been a massive influence on me and both he and Dave Bowman have stayed in contact and been interested in how I was progressing as a player."
So what can United expect from Fraser when, as seems certain, he is picked by McNamara? The people he likes and admires maybe gives us a clue as to his playing style.
"My favourite player as a boy was Zinedine Zidane and I am sure everyone loved watching him play," he said.
"Nowadays it would be Mesut Ozil, Luka Modric and Toni Kroos – attacking midfield players like that.
"I am someone who likes to create chances for my teammates but, as I have said, I also want to be seen as a hard worker as well.
"I am 20 so hopefully this is my time to make an impact.
"Hopefully, I can be the next one to come into the side and impress.
"My plan is to make this a big season for me.
"We have gotten a home game against Aberdeen to kick it all off and it will be a special occasion that I would love to be involved in."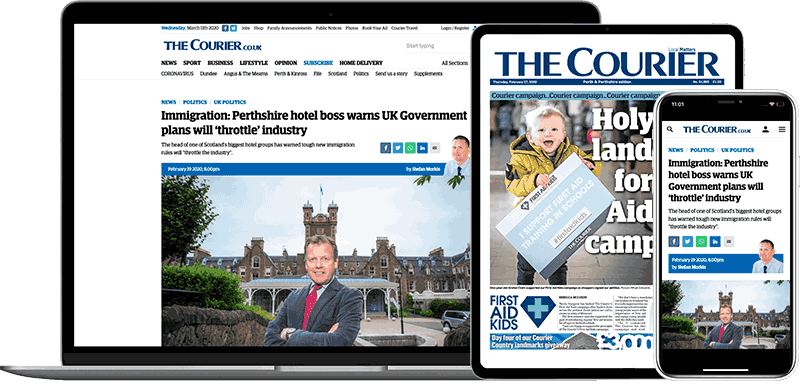 Help support quality local journalism … become a digital subscriber to The Courier
For as little as £5.99 a month you can access all of our content, including Premium articles.
Subscribe