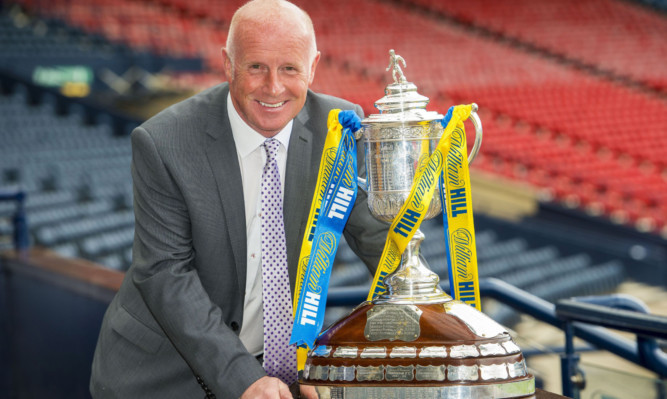 Peter Houston has revealed he has been overwhelmed by the number of good luck messages he has had from Dundee United fans, joking that he didn't think they liked him.
Surprisingly for a man who led the Tangerines to Scottish Cup glory over Ross County in 2010, Houston didn't expect so many of his old club's supporters to be right behind his bid to repeat the feat with Falkirk against Inverness Caley Thistle at Hampden tomorrow.
His time at Tannadice did finish on a downer and memorably involved a bizarre press conference when he signalled his own desire to leave.
However, the victory over the Staggies earned by a wonder goal from David Goodwillie and a double from Craig Conway will always have a special place in Houston's heart.
He will also forever have a spot in the club's history books as a trophy-winning manager.
Nevertheless, he didn't expect to have so many well-wishers among the United support.
"I still like to relive 2010 – the scenes, the punters, the players, the bevvy and the night out," he said.
"I will never ever forget that and a lot of people have said that, given my connections to Falkirk, that this could be bigger or better.
"I have replied no because if it equals it then I will more than happy.
"You know, I am actually getting messages from Dundee United fans wishing me good luck.
"I think that's magnificent for them to say that.
"I thought they probably didn't like me!
"But for them to be sending emails saying good luck and for me to remember 2010 is class."
Houston revealed how the day before United lifted the cup, one of their goal heroes put his foot in it by forgetting his shoes, as well as his club tie.
He recalled: "On the Friday lunchtime we trained at Tannadice and then we made sure everyone had their suits and other gear ready for travelling through to the west.
"Unsurprisingly, Goodie had forgotten not only his club tie but also his shoes.
"We had told them all at the start of the week to have all that stuff sorted out but you know what he's like.
"The fortunate thing was we were travelling through from Dundee and Goodie is from Stirling.
"That meant we were able to stop the bus at Stirling services.
"It was there that his mum was waiting with the shoes and tie.
"Mind you, it wasn't really a surprise that Goodie did that and at least he got everything right on the park the following day by scoring a great goal."
The Bairns are underdogs going into the game against ICT but Houston's experience could prove crucial.
There might also be a few bets being placed on them by United fans keen to see their old gaffer join Jock Stein and Alex Smith in the exclusive club of managers who have won the cup with two different teams.
He has picked his line-up and told the players who is in and who is out.
Houston, who has picked his line-up and told the players who is in and who is out, added: "I genuinely believe that when they walk out on Saturday our players will be nervous as hell but the Inverness guys will be exactly the same.
"If anything, we might have more players who have experienced semi-finals and finals than they do."
They also, perhaps, significantly, will have a manager who was a winner just five years ago.