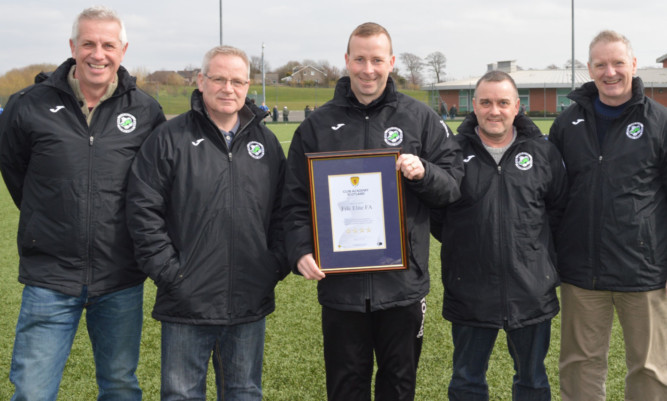 The Fife Elite Football Academy (FEFA) has received a 4 Star Academy award from the SFA.
Formed at the start of the season by an amalgamation of the club academies of Cowdenbeath, Dunfermline Athletic, East Fife and Raith Rovers, the recognition confirms the eligibility of FEFA to participate in the SFA's Elite programme.
Only the top 12 academies in Scotland take part at that level, which has six age groups from under-11 to under-17.
Head of Youth, Stephen Wright, said: "This is the culmination of a lot of hard work by many people and the result is that this represents a big step forward for football in Fife.
"Our players are now playing against the best teams and players in Scotland every week and that can only benefit them."
Interim chairman, Craig McWhirter, added: "Given how challenging the criteria are at this level, attaining 4 star status in such a short period of time is truly a fantastic achievement.
"I take my hat off to Stephen Wright, Bill Hendry, to the other directors, and to all of the coaching and support staff for driving this to a successful outcome and achieving something that many doubted could ever be achieved an organisation structured with the sole intent of providing elite players for all four professional Clubs in Fife, on an unbiased and neutral basis.
"However, it is not only elite players that will benefit. The academy will help all of youth football development in Fife as the coaches, scouts and other staff will be working hand in hand with other football bodies to provide assistance and support wherever it is needed.
"Let's hope that the establishment of the Fife Elite Football Academy, participating in the Elite programme, will help stop the exodus of top players to other clubs outwith the region."
* Pictured are the club representatives with Stephen Wright. From left Tom Ewing, Cowdenbeath; Tom Philips, Raith Rovers; Stephen Wright, Colin Cameron, East Fife; and Craig McWhirter, Dunfermline Athletic.