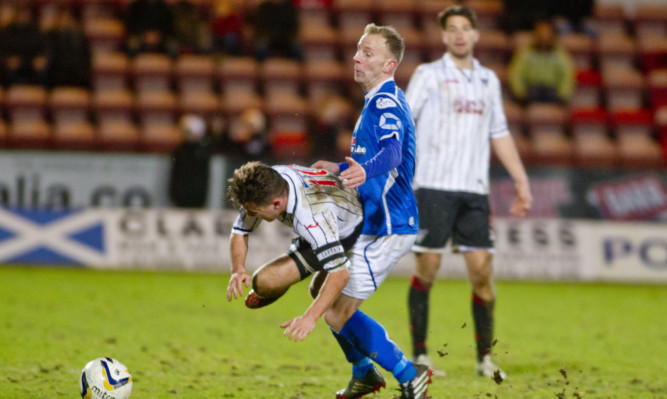 Dunfermline's Michael Moffat is a striker struggling for form in a team struggling for form, and there was further evidence here as his glaring miss contributed to a third straight defeat for the Pars.
The midweek resignation of manager Jim Jefferies did not change the fortunes of Moffat or the team, now six points behind joint leaders Stranraer and Forfar Athletic, although the players gave everything in an attempt to get new boss John Potter off to a winning start.
In the third meeting of these sides in the past three weeks, the visitors added to their Scottish Cup victory when skipper Frank McKeown drilled the ball through a forest of legs in the 59th minute.
Stranraer's last defeat was to Dunfermline in late-August when Moffat grabbed the winner, but neither Moffat nor the rest of the team have progressed since then.
The pre-season title favourites have won just twice in their last eight outings hardly promotion form while Moffat has found the net only four times following his summer move from Ayr for whom he couldn't stop scoring.
He had a perfect opportunity to end his drought in the 32nd minute when presented with an open goal at the back post, but rather than finishing decisively, he betrayed his loss of confidence by passing the ball straight towards goalkeeper David Mitchell.
"It should have gone in, but the keeper managed to clear it off the line," said Moffat.
"If that had gone in, I think we could have gone on to win the game."
Moffat was inches wide with a low, left-footer at the start of the second half and was denied by the offside flag when he finally buried a difficult chance five minutes from time.
"Ryan Wallace said he wasn't offside, but things just aren't going our way at the moment," Moffat said. "Their goalkeeper had five or six really good saves we should have won that game or at least got a draw. We created a lot of chances today, so there's a lot of positives to take from the game.
If we play the way we did today, then we'll win far more than we lose. We've got to get our heads up and go again next week (at Brechin). Hopefully I can get a goal and go on a wee run."
Match-winner McKeown said: "I prefer to keep goals out and usually leave scoring to the other lads, but I don't care who gets the winner as long as somebody does.
"That's twice in 11 days that we've come here and beaten them. We didn't play as well as we can today, but we still got the result.
"We're delighted to be top of the pile for Christmas, but it's a long season and we'll take it one game at a time.
"Whoever finishes above Dunfermline and Morton will probably win the league."