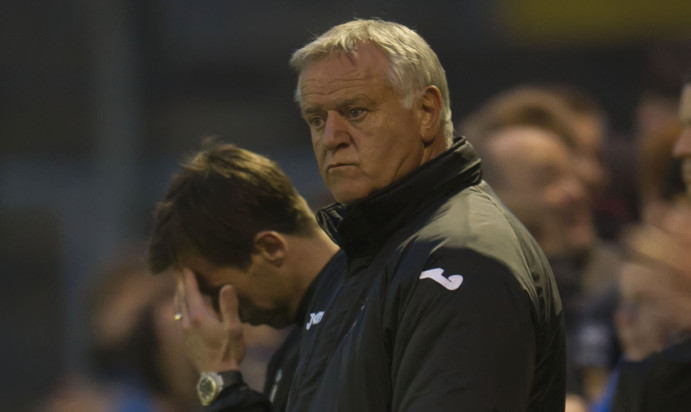 Dunfermline boss Jim Jefferies believes the forthcoming back-to-back home games against Airdrieonians and Ayr could be huge for the Fife club this season both on and off the field.
While the Pars will be hoping to continue their steady start to their league season, the next two fixtures at East End Park are just as important financially to administrators BDO and fans' group Pars United, who are waiting in the wings to take over the day-to-day running of the club.
With that in mind, Jefferies is hoping the next fortnight will not only please the bean-counters at the club, but will also keep the long-suffering Pars support happy.
He said: "The next two home games are vital to get us back on winning track but, most importantly, we would like to see the fans turn out. People have raised a lot of money to gain control of the club and it must be hard for them, but the fact is we have to sustain it for the running of the club.
"They are still not out of the mire yet, but everybody that can get down to East End Park on Saturday will help the club.
"It does seem to fall on the fans in difficult times. You look at a big club like Hearts, they have gone down this path as well.
"But they have a huge fan base and that keeps bringing in funds, while we're unlucky in that we have to rely on a smaller fan base to do that, but the fans are there.
"In this league, if we could get 3,500 to turn up every week then you will soon be okay, that's for sure.
"The most important thing is that we keep the momentum going and hopefully that will translate into attendances."
Jefferies continued: "People have said to me, despite not winning every game, that they are enjoying our boys and the way the play and understand the situation.
"The fans come along and accept there will be inconsistencies and at times games are not going to go their way, but as long as they see the boys giving everything, they'll enjoy it.
"The supporters have been magnificent, we just need to keep it going and make it as easy as possible for the people who are running the club to get enough cash to pay the bills and everything that goes with it."
Jefferies felt last week's 1-1 draw at Brechin was a missed opportunity and is keen for his side to find their killer instinct against the Diamonds.
"Even Premier League clubs would find it hard going to Brechin and we knew it would be a difficult game," he said.
"We want to win every game and although in some games you say to yourself beforehand you might take a point, when the game was played it has to be seen as two points dropped because we had so many chances.
"They were always going to get a 10-15 minute spell and we were wasteful of the chances we had.
"There will be more games like that, but in terms of how we went about it and how we played, we were excellent."
Meanwhile, Jefferies confirmed that midfielder Chris Kane has decided to go part-time after accepting a place on an engineering course at Heriot-Watt University.
The Pars boss is content that the 20-year-old former Hearts man can combine training with his studies and can be called upon when needed.