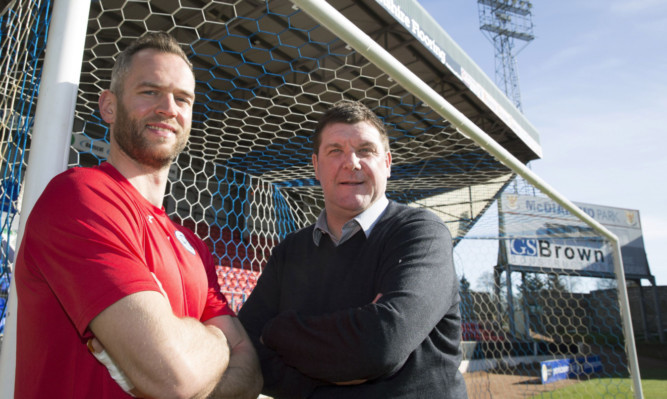 Alan Mannus has turned his back on pursuing a career in England to commit to St Johnstone on a long-term deal.
The Perth keeper signed a two-year contract extension yesterday, with the option of a third year after that.
Mannus admitted that the lure of trying his luck down south was strong.
But, after weighing up his options over the last couple of months, he has decided that McDiarmid Park is the best place for him.
And the Northern Irishman has set his sights on more glory years with Saints.
"If I had decided to move it would have been to another country," he told Courier Sport.
"I've always said I wouldn't have signed for another Scottish club and I meant it.
"St Johnstone gave me my chance to come here and I have always been grateful for that.
"I couldn't see myself playing against Saints. The fans have treated me so well.
"It's no secret I fancied a shot at England one day but the more I thought about it the more I felt I should stay here.
"I am happy here, I've been treated well by the club and I feel settled.
"The England thing was in the back of my head and that's why I always signed one-year contracts in case an opportunity came up.
"But that's not in my head any more and that's why I've decided to sign what is possibly a three-year contract."
Mannus has known nothing but top six football in his time with Saints, and he wants to make sure that doesn't change.
And he certainly won't be resting on his laurels over the next few years.
He noted: "I've played in Europe here, we're hopefully going to make the top six and I've won a trophy.
"I still feel I have plenty to achieve here as well. If we can get to the top six then it would be another good season.
"We're hoping to achieve than and then improve again next season.
"If people had said four or five years ago that we would have done everything we have done, I doubt many folk would have believed it.
"We've done a good job in the last few seasons and we want to keep it going."
Manager Tommy Wright, who has worked with Mannus for over a decade, admitted that securing Mannus is a "massive" coup for the club.
He said: "We're delighted Alan has signed a two year deal with the option of a third.
"It's massive for us because he's been one of the best two or three keepers in Scotland over the last few seasons.
"A lot of clubs would have been interested in Alan if he'd decided to move on, so we're happy he's decided to stay.
"He's settled here, he likes playing for St Johnstone and wants to be here.
"The fact he's signed for as many as three years shows how happy he is here.
"I think it's the right thing for him and I'm chuffed to bits.
"When this deal ends he'll be in his mid-30s and that's still young for a keeper.
"He's unbelievably fit and there's no doubt in my mind he can play into his late 30s or even 40s.
"In the past we have just handed out one-year deals so fair play to the chairman because we're trying to get more stability.
"Because of that we have signed more guys on two year contracts."