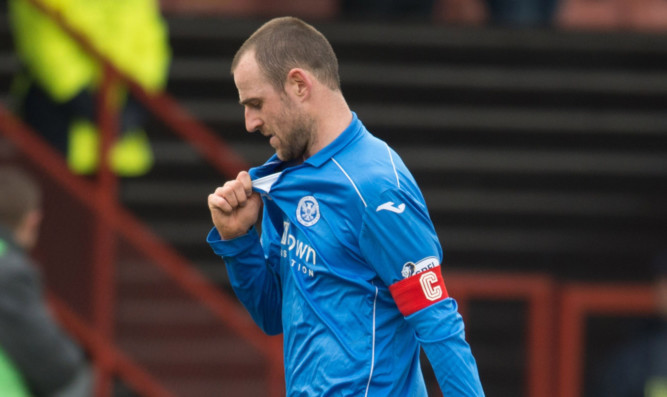 St Johnstone aren't going to do it the easy way.
But captain Dave Mackay is still confident that the Perth side will be playing top six football after the split.
Saying the 3-0 defeat to Partick Thistle came out of the blue is something of an understatement, given the fact that Tommy Wright's men had won at Celtic Park last time out.
There was collective shock in the away dressing room at Firhill, Mackay revealed, but also collective resolve to bounce back against St Mirren on Saturday.
"I think the manager was stunned the same as the rest of us," he commented.
"Everybody was shocked at how bad it was and we just need to put it right at the weekend.
"It's been an up and down season.
"I wouldn't imagine there have been too many back-to-back wins. We've played really well in some games but been terrible in four or five.
"It's unlike us when you look at the last few seasons.
"If we got beaten, we usually played well."
Mackay added: "It (the battle for the top six) is getting very tight.
"Kilmarnock have come back into it and it looks like it could go right to the wire.
"The good thing is it's in our own hands. If we beat Hamilton and Dundee then we will probably make top six.
"Maybe Saturday's performance will give us a kick up the backside at the right time."
Mackay insisted Saints weren't guilty of a lack of focus on Saturday. But that doesn't mean he has a straightforward explanation about what went wrong.
"I wouldn't say it was down to a lack of concentration," he pointed out.
"Sometimes you just can't put your finger on why it happens.
"We'd stressed the importance of the match on the back of the Celtic win but we ruined it all with the start we had.
"We're not a team that scores three or four a game so it was always going to be difficult for us to get back into it.
"The manner of the goals was the most disappointing thing. It could have been even worse.
"They were all poor. It's not like us.
"Every one of us, apart from Alan Mannus, played nowhere near the top of their game. And you can't get away with that in this league.
"They had eight out of 10 in every position and we'd be lucky if we managed five."
Manager Wright added: "I was surprised by our start. It was very disappointing. Taking nothing away from Partick Thistle, I have seen the goals again and my initial thoughts didn't change from immediately after the game.
"We should have dealt with all three better. These things can happen but not often with us. There were various players below par and that isn't like us either.
"I know the players are hurting after that display.
"But we have to look forward and it is St Mirren next. Going into away games against Celtic and Partick I suspect most people would have been delighted to take three points. It's just a pity we didn't capitalise on winning at Celtic Park.
"We have to put Saturday to bed and focus on St Mirren. Every win will make it more difficult for teams below to get past us.
"There are four games left before the split and it could go down to the Dundee game, with four teams chasing those two spots."
David Wotherspoon was brought off with a foot injury but Wright is hopeful that he will be fine for the weekend.