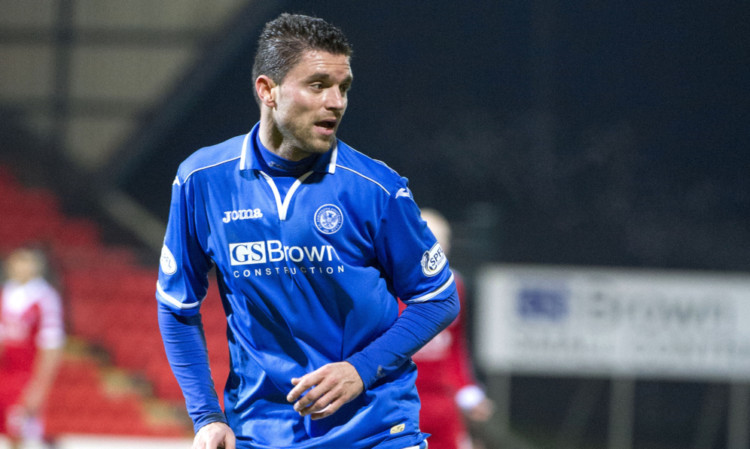 Sanel Jahic has kept Georgios Samaras quiet for his country, and now he is aiming to repeat the trick with his club.
The St Johnstone defender is an admirer of the Celtic striker and his unbeaten team, but he insisted the Perth men will not be daunted by reputations.
The Bosnian international pointed out: "We will play against the team, not the name of the club. OK, it's Celtic but it is just another 11 players you are facing.
"We won't look at it any differently than other teams, we always give the maximum anyway. I have not played Celtic before but I have come up against Georgios Samaras before at international level.
"I had to mark him for Bosnia a few years ago and we managed to get a draw that day.
"He is a very good player, he is strong and is very good at keeping the ball. He is a high-quality player, he's very technical and is one of the best players in Scotland.
"I have read that Celtic might sell him before his contract runs out, if that happens then a lot of clubs will be interested because he is a top player."
Saints' defensive discipline was severely tested against Hibs when it was 10 v 11 for an hour of the match.
Jahic and his team-mates will need to take that focus into today's encounter with the Scottish champions.
He noted: "I think the Hibs result was a very good one for us because when you play an hour with just 10 players it's always difficult. So to get a draw especially away from home is a good result."
"Hibs pushed us and their fans pushed the players but the most important thing for us was that we didn't concede a goal and got the point, said Jahic.
"We went there looking to win but a point turned out to be good.
"Against Celtic we will need the same concentration levels and more. They are the best team in Scotland, they are unbeaten in the league this season.
"In games like this, against the best players, you can't afford to make a mistake because they punish you.
"We need to win because we've not won any of the last three matches so it's time we picked up three points.
"People have said Celtic can go unbeaten for the whole season. I don't know if they can, you will find out when the season ends next year.
"But our target this week is to beat them, we want the three points. Every team who plays them will want to end their unbeaten run.
"I watched Celtic in the Champions League, for them it's much harder than in the Scottish league. They are a good team."
Jahic's short-term deal runs out in a few days but he will not be distracted by any uncertainty when he plays.
"I am not thinking about my future," he said.
"I am happy here but I don't want to focus on anything other than playing. My contract is up in January so we will talk about it then.
"I have settled well here and have got on well with my team-mates.
"In the last two games, our job at the back is to make sure the opposition don't score and we did that at Hibs as well as the first half of the Partick Thistle match.
"It is a team effort, everyone is playing together and doing their jobs."
The defender has been pleasantly surprised by the standard of the Scottish Premiership after arriving with preconceptions.
"People told me it would be a lot of long balls but it's not like that," he said.
"One or two of the teams play long balls but most try to play football.
"There are good players in Scotland and people should respect the league more because there is a lot of quality here.
"It's definitely a much higher standard than some people think. I really enjoy playing here."